Gary Hollowell
Gary Hollowell found us and we are certainly glad he did.  Gary, the newest member of the River Run Outfitters "family", started working with us in September 2012.  Gary and his wife, Terri, purchased a condo in Branson about 10 years ago because they loved the area and he wanted to fly fish Taneycomo as much as possible.  They retired and moved to the Branson area permanently from Tulsa, OK in 2011.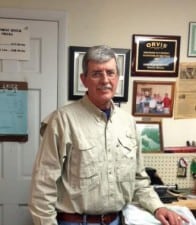 Like many of us, once he started fly fishing, he was addicted.  Gary says he loves to catch trout, but meeting and helping other fly fishers is almost as rewarding.  Gary wanted to expand his knowledge of fly fishing and thought working for River Run would allow him to do so. 
Our question to each of our guides:  what do you enjoy the most about guiding?
"I enjoy sharing my experiences and knowledge of this fantastic sport with people who love the art of fly fishing as much as I do.  I really like hearing about other fly fishers' experiences and places they have fished.  It is really cool to have someone come back to the shop after a successful day and thank us for the advice we gave them on which flies are working and where and how to fish them."
If you can't find Gary working in the shop….you will find him somewhere on the river almost any day of the week!