JQ Streamer (formerly the CQ Streamer)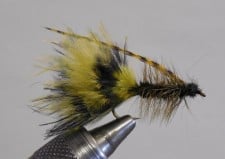 Basically, this is a modified wooly bugger.  The primary differences are the hackle spiraled around the body is fairly dense, and the addition of the "rudder" over the top of the fly.  These two features suggest a slow stripping retrieve.  When fished in slow or no generation conditions, we recommend using an intermediate sink tip line or sinking leader.  If fishing in two generators or more, have a few JQs tied with lead weight in the body and use a faster sink rate line or leader.
This pattern was created by one of our local fly fishers,  John Quinn, thus the name JQ.  John lives in Kimberling City, MO and fishes Taneycomo as often as he can.  We have to thank John for this addition to our fly boxes as it has been the answer on many a tough day.  By the way, he also ties this in brown colors.
Recipe:
Hook:  TMC 5263 (or equivalent), sizes 10-12
Thread:  6/0 Olive, or color to match materials you are using
Tail:  Olive, sculpin olive, or balck/olive jailhouse marabou (shown in picture)
Body:  Black dubbing or peacock herl strands
Hackle:  Olive wooly bugger hackle
Rudder:  Dry fly hackle, olive grizzly