Crazy weather!  20 degrees and snow one day and 70 the next!  Let's hope Spring gets here pretty soon.  Anyway, all the snow we received Friday has just about disappeared.  We are expecting low 60s today then upper 50s Monday and Tuesday.  Wednesday and Thursday are looking like low 70s with rain coming in on Friday and upper 50s.  Back to nice and 60s or 70s for the weekend.
No change in generation.  Couple units early, then four around 7:00 a.m. for four to five hours, then back to two or three units for the rest of the day.  We are at power pool so we could see a change somewhere in the future.
Darren on the river a week ago this past Thursday with Tim and Julie from St. Louis.  Tough day, but they caught
some fish on the black copperhead midge and stripping a tiger tail with a crackleback trailer.  They had enough fun that they did it again on Saturday.  Dana had Dick  from Texas on the water Saturday.  They too had a tough trip, but caught a few on a cerise San Juan worm, and the white mega worm.
Tuesday and Wednesday, Dana was on the water with Billy from Illinois.  Had a fun time and caught some fish on the mega worm, a ruby 2, the black copperhead midge and stripping a JQ streamer.   Carolyn was on the water Wednesday with Dean.  They went out to see if any of the bugs he learned how to tie on Tuesday would catch fish.
Unfortunately, they were being real picky and wanted something else.  He caught on a few fish on an egg pattern and black copperhead midge.   Jim and Darren had a family of
four from Texas on the water.  Beau and his daughter, Maggie, were fishing with Darren and Maggie brought in a nice fish on a worm brown San Juan worm.  Their other pattern for the outing was a P&P midge.   Jim had Jennifer and and their other daughter, Lilly.  No best pattern but they did bring a few fish to the boat.
The family was back on the water Thursday.  Jim had Beau and Maggie.  Beau hooked a few on a streamer.  Carolyn had Jennifer and Lilly this day.  Lilly caught her first fish ever on a gray scud.  This was the magic pattern for them as Jennifer landed a 21 inch and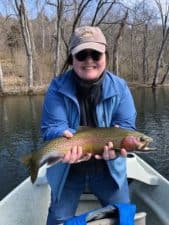 20-1/2″ rainbow on a size 18 scud.  Other best pattern was stripping a holographic green crackleback behind a JQ streamer.  Nice sunny day and they took the crackleback.
Overall, fishing has been slow.  Not even seeing very many fish in the river.  Thursday was the most fish we have seen for a while and they were very spotty and not very many.  Hopefully, things will pick up.