We have had a great couple of days around here with temperatures in the 80s!  Looks like it is going a little south tomorrow as they are predicting rain starting early in the a.m. and ramping up around 8:00-9:00 a.m. and continuing through more of the day.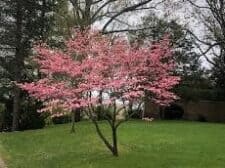 Temperatures look like 70s for Wednesday then upper 60s through Friday.  Through the weekend and into next week it will be upper 70s and low 80s.  The dogwood bloom has been gorgeous this year!  Hope some of you got a chance to see them.
Looks like we are going to see a couple of units continue to run for several more days.  They are dumping water from Beaver to get it back to power pool and we are expecting some rain tomorrow into Thursday morning.
Mike from Oklahoma on the water with Jim last Wednesday.  Really good day for Mike on the ruby.  Mike is fairly new so Jim worked with him on techniques.
Thursday, Dana took Fred and his friend Jim, from Kansas out all day.  They also had a really good
day.  All their fish were caught on either a ruby 2 midge or gray scud under the big ruby.
Saturday, Darren took Ansel and Steve out for the day.  Another really good day.  Best fishing was on the flat below
outlet 3.  It was a black copperhead midge under the big ruby or a roe egg for them.  Dana was on the water with Jeff and Bill.  Grey scud under the big ruby was pretty much their patterns for the day.  Lots of fun and lots of fish!
Jon and his Dad, Derius, from Kansas spent a half a day Sunday with Jim.  Both are pretty new so he worked with them on casting.  They certainly caught some fish too on the ruby 2 and JQ streamer.  Sunday, they
started up the generators in the middle of the day (when they said they were only going to run one unit all day) and it trashed up the river pretty good.  Darren was out for
the day with Jim and his son Jim.  Ruby 2 under big ruby and a worm pattern were their patterns for the day.  Jim was enjoying fishing is bamboo rod he had recently built.  Fun day for them.
Monday was another really good day for Gary and his brother Ansel.  They spent half a day on the water with Carolyn.  Gary's ruby 2 midge under the big ruby had no color and was still catching fish.  He had to break down and get a new one after it got caught in the anchor rope.  The guys also did well stripping the Tiger Tail streamer below Lookout Island.
Today, Jim had Ken from Kansas out for the morning.  They had a good time on the water with the ruby and BB ruby.  Soft takes again today so they also had lot of misses.