We don't know how to act having so many days in a row without rain!  Looks like we have three or four more, then 30-40% chances start showing up by the weekend.  Best chances look like the end of the following week.  Temperatures are in the 80-90s so it has been hot!
Our generation pattern has been either off in the a.m. or low.  Then some time in the afternoon they turn on two units.  Not sure how much longer this will last, but it has certainly been nice for the wade fishers!
Jim on the water last Thursday with Jim from Springfield.  They have fished a lot together over the past ten years.  Water was up and down that day and they caught fish on the ruby midge, the hot hare's ear and stripping a size 8 JQ streamer.
Saturday, Dana took John and Robert out for half a day.  Good day for these guys on the black
copperhead midge, a clown egg pattern, or stripping the holographic green crackleback.  Darren Leslie and Matt, from Nixa out for half a day.
Fairly new fly fishers, so Darren worked a little with them while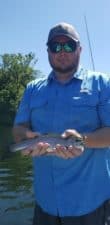 catching fish.  Best patterns were the tiger tail and holographic green crackleback.
Todd and his friend Chuck spent Sunday on the water with Dana.  Worked a little harder this day for fish, but still had a good day on the cerise San Juan worm, a big ruby and a black copperhead midge.  It was
another day of the water going up and down.  Carolyn had Bill and his grandson Grant.  Grant will be playing football for MU this fall and definitely filled the front of the drift boat.
Monday, Don took his grandson fishing with Carolyn.  This was Anton's first time fly fishing and
fishing for trout.  He did good at getting his pattern into the wader and picked up on mending quickly.  Could not get the hang of setting the hook!  First trout he brought in was a team effort.  Grandpa hooked it, and Anton brought it in!  He kept working at it and success!  He got a good drift, hooked and brought in his first trout on a fly rod all by himself!
Red d-rib midge or ruby 2 were the patterns.  Don was also catching on the tiger tail.   Not sure if it it the warmer days or the water going up and down, but fishing the past few days has been a bit more difficult than a couple weeks ago.  Hearing the same from several of the waders coming into the shop.