We are seeing lots of nice, sunny days.  A few sprinkles yesterday, but otherwise no rain!  Temperatures are running in the upper 80s and lot 90s.  Looks like chances for rain are showing up later this coming week.
Generators continue to run 24/7.  Saturday and today, they ran two units most of the day.  Cranked on three units around 2:00 p.m. which ran for 5-6 hours.  Looks like the same pattern for today.  Monday will see two units until 3:00 p.m. when they will fire up four for four hours, then back to two until 10:00 when it will drop to one.
Last Monday, Carolyn had Todd on the water for the morning.  Really good day for Todd catching on the #16 red d-ribbed midge dropped from the big ruby.  Liz and Curtis, from Kansas, spent all day on the water with Gina.  Really good day for them on the tiger
tail and a size 16 ruby 2.  Dana took Mark out for the morning.  They were catching on the ruby 2 under the big ruby as well as the holographic green crackleback.
Liz and Curtis had so much fun on Monday, they went for a half day on Tuesday.  Another good day,
this time on a cerise micro San Juan worm under the big ruby or stripping the tiger tail.   Dana and Jim were on the water with a group of four.  Dana had June and Jodi.  They were catchig on the ruby 2 or red d-ribbed midges, and the holographic green cracklback.  Jim's guests, Drew and Alice are new fly fishers so he worked with them for a while.  They caught fish on the JQ streamer, the hot hare's ear nymph and the ruby midge.
Wednesday, Dana had Claude from Texas.  Good day for Claude on stripping the holographic green crackleback or the tiger tail.  Also caught some fish on the rusty midge.
New fly fishers, Steve and Becks fished with Gina on Thursday.  Fun day for these two learning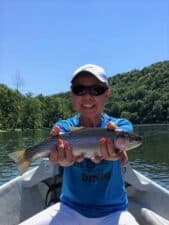 how to catch fish.  They caught both nymphing and stripping.  It was the
holographic green crackleback stripping and the pink San Juan worm under the big ruby nymphing.  A couple of our regular regulars, Gary and Barry fish 1/2 days Thursday and Friday with Dana.  Two good trips.  First day, was a Gary special black midge or copper john type pattern.  Second day it was the holographic green crackleback, ruby 2 and the beaded red San Juan worm.  Crazy, fun guys!