No down time on generation since late Monday night. Yesterday they started off slow, but before the afternoon was over, they had all four going full blast. Today, they started off low with two generators, but have now ramped the two generators up so the tailwater level is at 707.0 feet. Light to heavy showers off and on today, so it is pretty hot and humid!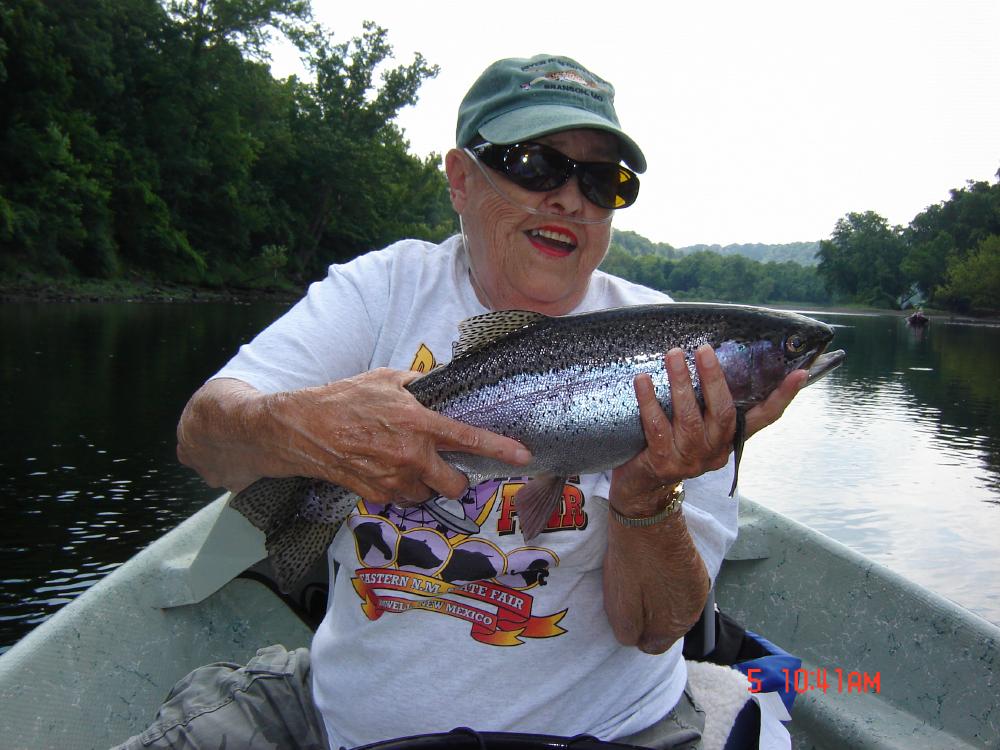 Wanda – 18-1/2" – 7/5/10
Jim on the water yesterday with Scott and Adria from St. Joseph. Scott has been fishing with Jim since 2001, and Adria is just getting started. They had a good day on the small black midge with the blood worm dropper and a size 16 gray scud. Carolyn had the birthday ladies, Wanda and Joanna out for half a day. Tried to get them on the water last month (their actual birthday month) but we were blown off thanks to a rain storm. But as the saying goes, good things come to those who wait. Nice day of fat rainbows. Wanda's 18-1/2 inch rainbow was caught on a size 18 Primrose & Pearl Midge. They were a bit leader shy that day so she was using 7X. Other good pattern for the day was a "fluzzieplume". This is just something in the works. May be good, may not, we are still testing it. Did watch one of our customers fishing just below where we were at the Rockin Chair and she was using a size 14 olive wooly bugger and catching fish right and left. So, it was a good day on the water Monday.