Finally saw some non-generation days starting on July 1 (Thursday) when they had it off from midnight until 11:00 a.m. that morning. Friday it was off from midnight until 2:00 p.m. and Saturday from midnight to 3:00 p.m. Monday was low generation, the equivalent of one generator most of the day. Kept the level around 704 feet until 2:00 p.m. when they raised the level up to 706 feet plus. So far, dry weather, but we might be getting some showers on a few days this coming week.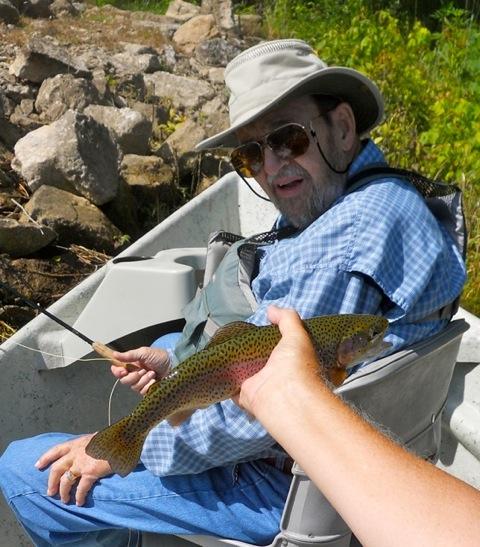 Hubert – 6/29/10
Little behind here, but we will try to get up to date. Last Tuesday, Stan had George and Hubert, from Lebanon, out for half a day. They had a wonderful day of nice quality fish on a Big Ruby and the little Ruby. Meanwhile, Jim had Wayne and Colleen from Hawaii out again. They spent the day catching fish on the Red Ass soft hackle and size 12 Bug-Eye bugger. They too, caught some nice quality fish.
Wayne and Colleen didn't get their fill of fishing on Tuesday, so they spent another full day with Jim on Thursday. Best flies this day were the miracle scud and a bug-eye bugger. Darrell had John and Kyle from the Kansas City area out for half a day. These guys were brand new and wanted to learn how to fly fish. They learned and caught. Good day on the Primrose & Pearl and purple midges.
Friday had three boats out. Jay, from Oklahoma, decided he it was time to spend another half day on the water with Jim. They had a good day on a black midge with a blood worm or ruby midge dropper. Fishing was a bit slow in the a.m. and fish were taking pretty soft, but they still had a good day. Darrell was out for half a day with Joe and Erik. Joe has done some fly fishing and brought his friend, Erik, along to get a taste of it. These guys from Florida boated lots of fish on the purple midge and an olive filoplume. Stan was out with John and Carol from the St. Louis area. This was Carol's birthday and she caught her first fish on a fly rod.
Saturday was a tough start. These fish were not interested in any form of a midge. Fortunately, in the right place with right pattern such as a sculpin, or other streamer, or using a sinking leader or line to get your pattern down, you could catch some fish. Stan had Carol and John out again, this time for half a day. They had a good day on the olive filoplume (using a sinking line), a light olive size, 16 soft hackle, and a size 18 gray scud.
Carolyn was out for half a day with Rich and his eleven year old daughter, Janet. Rich has been out with Carolyn a couple times before and decided it was time for Janet to start fly fishing. She already enjoys fishing and I think she is going to be quite a fly fisher some day…..she already has a very good roll cast! Their best pattern was the olive filoplume.
| | |
| --- | --- |
| | |
| Janet – 7/3/10 | Rich – 7/3/10 |
Tom and Mike from Ft. Lenard Wood, were with Dana for half a day. Slow start in the early part of the day, but they started picking up fish on the olive filoplume, holographic green crackleback and a gray scud. Jim and his client, Maynard, from Baldwin were also on the water for half a day. They did find some fish taking a black midge with a blood worm dropper. Takes were soft and they were moving the bugs to give them action. Water was very flat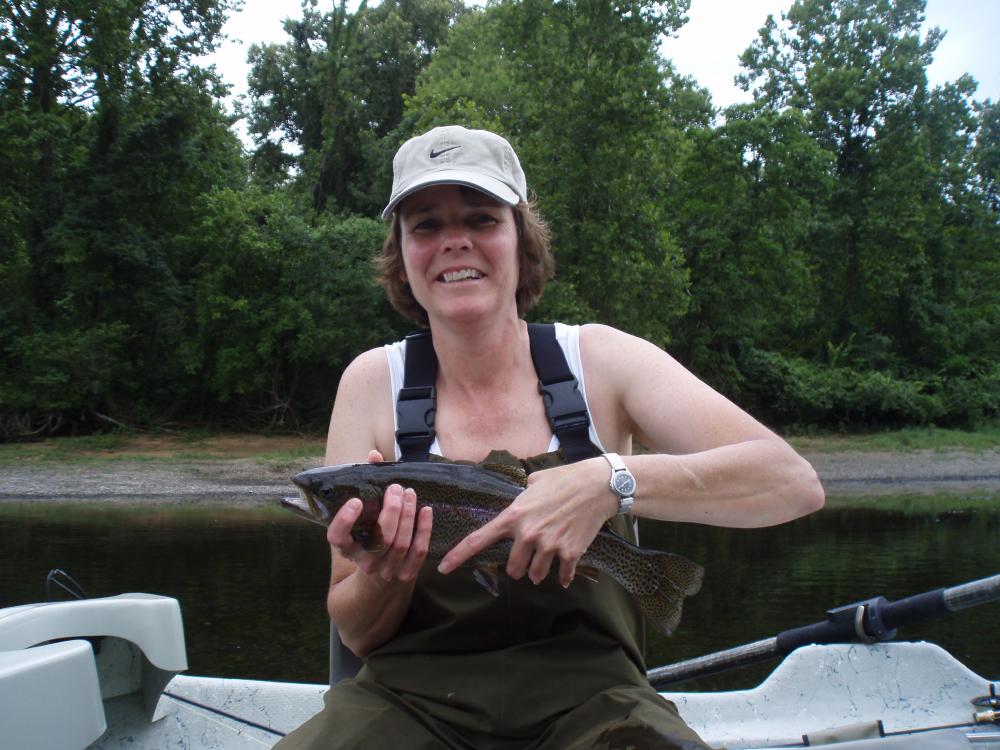 Cathy – 7/3/10
Saturday. They also caught fish on the gray scud. Cathy, a Navy gal from Nebraska, spend the whole day on the water with Gina. Not only does she like the water, but loves fly fishing. They had a fun day with the filoplume, gray scud, and when the water came on, a pink San Juan worm. She caught a beautiful 18 inch rainbow on a filoplume.
Cathy had such a fun time on Saturday, she spent half a day Sunday on the water with Carolyn. It was another filoplume day and we threw in a few holographic green cracklebacks when the fish started dimpling the water feeding subsurface. This was fun as you could see the fish swirl when they were hitting the fly.