What a crazy few days we have had! Wednesday the weather forecast started looking real bleak with a winter snow advisory for Banson and the surrounding areas. Some snow starting Thursday night which continued all day Friday. By Saturday, sure enough, we had 6-7 inches of white stuff over most of Branson. We made out pretty good as parts of Oklahoma and Arkansas were hit much harder than we were. Hope you guys are starting to thaw out and get back to normal soon! Water continues to flow 24/7 and today, for a change, Table Rock dropped back to three generators, at least for a while. Table Rock is now at 916.1 feet, while Beaver is down to 1121. 6 feet. At this rate, Beaver should be at pool level within a couple of days. However, don't get too excited, as we will have some additional water from the run off of this snow melt. Do see a light at the end of the tunnel though…barring any more major rain or snow fall.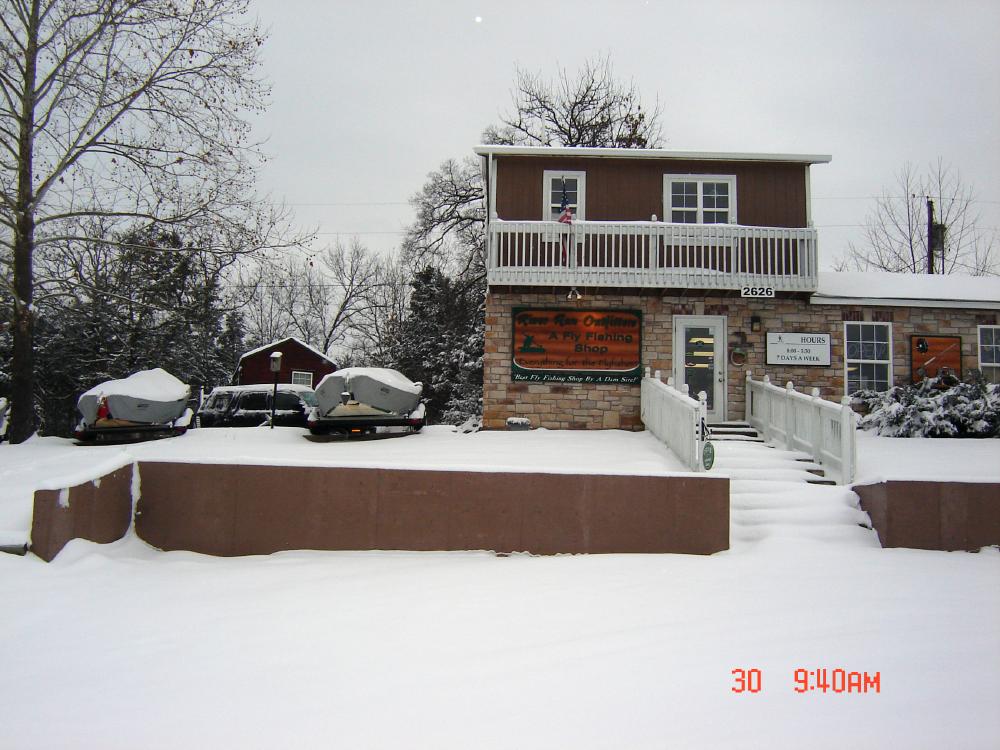 That's a lot of snow! – 1-30-10
Wednesday, Jim and Mike, from Kansas, took to the water for a 1/2 day float. Very good day on the water using the red midge, with the pink San Juan dropper or the bright orange San Juan. Mike is fairly new to fly fishing, so they worked on lots of techniques and skills.
This weekend was "Winter Retreat" gathering of the River Runners Women's Fly Fishing Club (RRWFFC) and was held in Branson from 1/29 to 2/1. This group of women fly fishers….correction, die hard women fly fishers…is over 60 members strong. Over 20 had signed up and planned to attent this gathering. Unfortunately, due to weather and road conditions beyond their control, the final count of those who made it was 7. Lucky Seven! It was a gathering not to be forgotten. With great anticipation and due to the fact that a few came in early to beat the weather, Thursday, Friday and Saturday, were filled with fly tying, exchanging patterns and tying techniques, eating, watching fly fishing DVDs, sleeping, and hoping the snow would stop and the weather would improve. Snow stopped, sun came out, snow started melting and the river said "come on down". Sunday's day warmed up into the lower 40s, knocked the snow off the drift boats and fly lines were flying. Everyone caught fish on the high water tungsten beadhead midges, cerise or hot pink San Juan worms, and the most fun of the day, an olive wooly bugger or bug-eyed bugger on the intermediate sink line or using a sinking leader. Fish were a mixed bag, a nice, colorful 15 incher (many of them males), then a "dink". Catch of the day was a beautiful 19 inch rainbow that Peggy landed on a bug-eyed bugger.
| | |
| --- | --- |
| | |
| The Group | Getting Ready |
| | |
| --- | --- |
| | |
| The Float-A-Thon | Fish of the Day |