Wow!  32 degrees this morning and weather said it feels like 25!  High today is 43.  Tomorrow and Wednesday the highs will be in the 40s and the lows in the 20s.  Fortunately, Thursday starts toward what is normal for this time of the year, 60s.  Then things start getting better and we will see mid 60s over the weekend with no rain….at least at this time that is the forecast.
Today is a big change in the water flow.  Probably due to the cold weather coming in everywhere.  They are running units at 6:00 a.m. and are now running four units.  The projection is that they will run four units for four hours then back off to two for a couple hours.  It then says off for two hours and back on with two units and back up to four.
Dissolved oxygen it still low and fishing continue to tough on most days with a few good days thrown in.  Carolyn on the water for a half day on the 17th with one of our long-timers, Don from Illinois.  Always a fun day with Don.  Caught a few fish and shared stories.  Best pattern was the ruby 2 midge.  Since the water was running this day, Gary took Kristi from Wisconsin, over the Roaring River.  They worked on presentation and other skills while they caught fish on the peach egg, black wooly and the holographic green crackleback.
On the 18th, Jim and Dana had a group of four on the water.  Debbie and George were with Dana.  They had a good day on the JQ streamer and P&P midge.  Jim's couple, Blaine and Pat were catching on the P&P midge and a tan scud.
Carolyn had more long-time fishers on the water on the 19th, Rob and Gerrie.  Good day on the ruby 2.  Kristi did not get enough fishing so she took another trip, this time it was with Jim.  They fished Taney and she caught fish on a tan scud, red San Juan worm, and baby ruby midge.   Dana had one of his regulars, George, out for the day.  P&P, Ruby 2 and cerise San Juan worm.
Gerri and Rob out again with Carolyn on the 20th.   This was one or those very good days we have had scattered in the the tough ones.  It was Ruby 2 all the way.  Dana also on the water again with George.  Another good day with the P&P, Ruby 2, and cerise San Juan worm.
This must be regulars month.  On the 21st Gina on the water with Dale, one of her regulars.  He brought along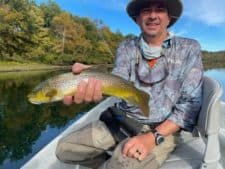 a friend, Morgan to fish with them.  They had a good day on the ruby midges and black midges.   Chris and Dana from Tennessee spent half a day on the water with Darren.  Good day for them on the P&P midge.
Last Monday, Darren had Dale and Larry from Arkansas on a wade trip.  It was another midge day.
Tuesday, Fritz did a half day wade trip with Darren.  They worked scuds in the shallow, skinny water up high.    Dana had John and Mark out, also on a wade trip.  Very slow day for them.
Dennis and Wes fish with Darren last Friday.  Zebra midges caught them several fish.,,,,,including a could suckers!  Gary's guys. Tom and Daniel caught some fish on a gray scud or peach egg pattern.
Let's hope Table Rock cools down pretty soon and the lake flips.  We certainly need some oxygenated water down where it comes through the generators.  In the meantime, they are injecting liquid oxygen into Taney to help the fishery.