Forecasting some rain in the area late tonight and into tomorrow morning.  Also, cooler temperatures (70s) for the next three days.  Then, looks like a bunch of 80s days for a while.
Generation continues to be off during the morning hours and on some time in the afternoon.  Lately it has been around 2:00 p.m.
Forgot a couple trips taken out over a week ago.  September 10, Dana had Christina and Grey out for the morning.  Not a lot of fish, a lot of fun on the rusty midge and the white mega worm.   Carolyn had Dean out for most of the day.  Had a pretty decent day on a gray scud and the cerise worm when the generators came on.
Last Tuesday, Jim took Norm and Bill out for half a day.  Very slow day.  No best fly.  Carolyn had a couple new fly fishers, Clayton and his
brother Keith on the water.  They brought in some fish on the P&P midge.
Dale and Tom spend last Wednesday on the water with Dana.  Nice fish on a ruby 2 or crackleback.
Dale didn't get enough on Wednesday, so he came back and fish again with Dana on Friday.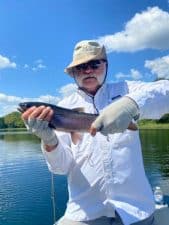 Another quality fish day on the ruby 2 midge and crackleback.
Saturday, Dana took Al from Illinois out for half a day.  Really slow day.  B-bug managed to pull a fish out of the river.