Beautiful weekend and now we're paying for it. Winter weather advisory right now.  However, the worst is going to be north of us.  We may see some sleet and possibly freezing conditions on the roads towards this evening.  Tomorrow will still be in the 30s but Friday and Saturday are looking at 40s and by Sunday the 50s, then back into the upper 40s and low 50s for next week.
We finally saw only two units running for about three and a half days.  Unfortunately, here came the rain and now we are back to three units and they turned on five spillways this morning to add approximately 5000 cfs to the three units.
Took myself fishing Monday as the weather was so nice and I needed a fix!  Only out for a couple hours in the drift boat but it was a very good two hours.  First cast brought in this nice male bow.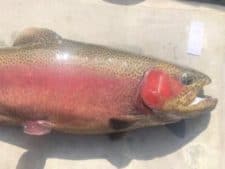 Caught several more after him on the big ruby or the cerise worm.