Upper 80s to l0w 90s almost every day plus slight chances for rain almost every day, especially in the afternoon.  That seems to be the pattern right now.
Weird generation pattern right now also.  Past two or three days we have no generation until 8:00 a.m. then they turn on two units for two hours.  Off for three hours or so then ramp back up with first one unit then two or three and eventually four.  Off by 8:00-9:00 p.m.  Understand this is due to the boards being down at Powersite.  They need to get Bull Shoals down a couple feet before they can fix them.  In the meantime, Taneycomo just flows straight through and they are running water a little spastically to keep a desirable level of water in Taneycomo.
John and Bogan from Florida fished with Darren this past Sunday.  John does quite a bit of fishing in Florida, but this was only
Bogan's second time with a fly rod.  The guys got some fish to the boat on the ruby 2 fishing mainly in the upper part of the river.  Dana had Mike from Oklahoma out for the day.  They had a good day on the ruby 2 under the big ruby and stripping a tiger tail.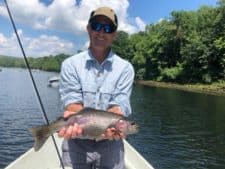 Moday, Carolyn took Matt and Steve out for half a day.  Zero generation when we hit the water.  It was good day for these two.  Best patterns were the black copperhead or ruby 2 midge.  Did catch a few stripping the holographic green crackleback.   When they fired up the first generation at noon, rowed up toward the fish ladder and heavied up with the big
ruby.  Fished good until they upped it to three units and everything dirtied up.  Gina and Dana had the Sichter family out.  Gina had  Michael, and he was
catching fish on the black copperhead and ruby 2 midges.  Dad, Jim, and his other son, Wayne fished with Darren.  Their best area was up near the fish ladder on a #14 trans scud, black copperhead midge and the thread midge.  A fun time was had by all!
Tuesday, long-time customers, Rick and Kristi needed a fix so they spent the morning on the water with Carolyn.  Slow start with no generators.  Then they turned on two units at 9:00 a.m. so it was upstream toward the ladders.  Fished this area until they
turned the two off after maybe an hour of running.  Drifted down and through the narrows catching fish on the #18 ruby 2 under a #16 ruby 2 midge.  Travis and his 10 year old son, Jackson were out with Gina.  She worked with both of then on casting as this was Jackson's first fly fishing experience and Dad
had not been fly fishing for several years.  Jackson hooked some fish but did not get one to the boat.  He had a great time, especially getting to wear waders and stand in the water without getting wet!  Ruby 2 and black copperhead under big ruby were their patterns.  Darren and Dana had Mark and his two sons, Patrick and Sean on the water.  The first day, Mark and Pat
fished with Dana.  All are new to fly fishing, so it was a learning curve this day.  Mark and Pat landed fish on the red San Juan worm.  Darren had Sean and they were fishing a #14 scud.
The guys didn't get enough fishing on Tuesday, so they went out with Dana and Darren again on Wednesday.
This time, Dana took Pat and they fished and caught on the rusty midge and the red San Juan worm.  Mark and Shawn were with Darren and they were catching on a #14 scud , the ruby 2 and black copperhead midges.  Wiley, from Oklahoma, was on the water with Carolyn for half a day.  This was another two generators on at 8:00 a.m. for a couple hours.  Rowed up to the ladder area and drifted the big ruby with
the ruby 2 midge.  Picked a few here.  When the water shut down, drifted down through the Rockin Chair area where we picked up several more, then through the narrows.  Fished good until they turned the generators back on again!