Looks like we might be in for some rain tomorrow.  Pretty good chances in the morning, and stopping by late afternoon.  We'll just have to see.  Saturday looks pretty good, partly cloudy, or sunny, with temperatures in the mid 60s.  That sounds good.  Sunday a little cooler, upper 50s and sunshine.  Next week looks like a mixed bag.  Mid to low 60s early then into the upper 50s.  Chances for rain mid week.
Not much change in generation pattern.  Probably off more than before as they have only been running 1 maybe 2 units for a couple hours late in the afternoon.  Otherwise, no generation during the morning hours, with the exception of yesterday.  They ran one unit for at least three hours.
Gina on the water last Wednesday with Robert and his grandson, Eli.  Good day for them as this was Eli's first fly fishing experience.  Gina worked with his on casting and he picked it up pretty quick.   Wasn't long before he was throwing
a sinking leader and shooting line.  Fun day for everyone on the JQ streamer and ruby 2 midge.  Chip and Dawain were on the water with Carolyn.  Good day for these guys on the ruby 2 midge.  Lots of quality fish 14 inches
and above.
Thursday, Chip and Dawain spent the morning wading in the water with Gary.  Another good day for the guys, this time on the San Juan worm and a gray scud.
Jim, Darren and Carolyn had a group of guys from the Kansas City area on a company outing on the water both Friday and Saturday.  Fun bunch of guys.  They were all pretty  new to fly fishing, but all caught on pretty quickly and we all had a couple fun days.  Jim's guys, Mark and Jeff were catching on the baby ruby midge, gray scud and when the water came on, a #10
JQ streamer.  Darren's guys, John and Tom were catching on the size 18 ruby 2 midge, an olive gray scud in a size 18, and a black and silver zebra midge, also an 18.  Scott fished all by himself with Carolyn on Thursday and had a good day on the ruby 2 midge.  Friday, Scott was joined by Josh and they had a
great day on the black copperhead midge.  This was the best pattern for them all day.  Debbie and Debbie "Doc"
spent Friday morning on the river with Gina.  Good day for the ladies on the black copper head midge.  Both are new fly fishers so a little casting instruction started their
day, but it ended on catching fish!  Gary took a new fly fisher, Kevin, from Kansas out for an instructional trip.  Fun day and caught fish on the red San Juan worm and the black copperhead midge.
Saturday, Dana took Gary out for the morning.  He fished in Alaska and got the fly fishing bug.  They had a tough but fun day.  Fished the black copperhead midge.  David, from Iowa was out with Gary.  David is also new to fly fishing so Gary worked with him and he caught several fish on the ruby 2 midge or a tan scud.
Becky got her husband, Pat, a full day trip for his birthday.  They spent last Sunday on the water with Carolyn.  Becky is new to fly fishing, but it didn't take long before she was hooking fish.  They both had a good, fun day on his birthday trip.
Monday and Tuesday, Meredith, from Indiana, spent two days with his friend, Dave Miller, fishing with Carolyn.  Nice days and fishing was good.  Monday the guys were running pretty even all day catching fish.  Tuesday was a "mojo" day for Meredith,  He fished the ruby 2 midge until there was no red left on the fly and continued catching.  He was going to keep this fly and frame it,
but fish number 28 took the once red, now silver midge from him.  We managed to scrap the red off a couple other flies and he continued catching.  Fun guys to run the river with.  Gary tied a few silver (ruby) 2 midges for them to use the next when they were going fishing on their own.  When I passed Meredith on the river the next day, he said he was catching!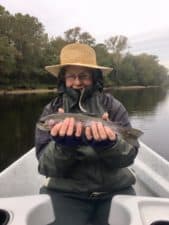 Tuesday, Gina was on the river with Nelson and Peggy.  They were celebrating their 50th anniversary.  HAPPY ANNIVERSARY!  What a great way to celebrate.  They had a good day on the black copperhead midge.
Darren was out Wednesday with Terry and his friend Larry.  Larry is fairly new and had fun missing and hooking some fish on the ruby midge and olive/grey scud.  Dan and his wife, Nyla were on the water with Carolyn.
Nyla's first time fly fishing and she did well.  Dan has been working with her; we polished up a few areas and she is roll casting and regular casting well.  Better yet, catching fish!  Ruby 2 and P&P midges the patterns for the day.
Thursday, Paul and his son, Joseph spent the morning fishing with Carolyn.  Tough day, but we managed to catch several fish on the ruby 2 and black copperhead midges and an egg pattern.  Did not fish stead anywhere.  3-4 fish in one spot and move on.  Nice day and we had fun.
F