Unfortunately, there are chances of rain almost every dy this week.  Sunny this morning, but chances of scattered showers this afternoon and into tonight.  Tomorrow looks like more of the same.  Wednesday has a 50% chance of scattered thunderstorms in the morning.  Thursday the best chances are later in the day.  Right now, Friday has the best chance for rain.  We will see what happens.  As you know, our weather forecast are maybe 50% right and 50% wrong!
No chance in the generation pattern.  30 mwh, which comes out to 2400- 3700 cubic feet per second as they never stay right with the 30.  It fluctuated up and down, so we get less and more during the day.  This keeps the tail water level somewhere in the 704 to maybe low 705 range.
Fairly new fly fishers on the water Thursday.  Travous and his wife, Karen took a one day fly fishing class.  We started with the normal classroom coverage of line, leaders, other equipment, bugs, etc.  After lunch it was to the water for the roll cast and regular cast.  Did let them fish for a short time so we could go through nymph and streamer work.  Fun day and they are well on their way to enjoying this great sport.
Saturday, Darrell had Bryan from Alabama on the water in the morning.  Bryan caught fish on the red San Juan worm and a small ruby midge.  Carolyn had a great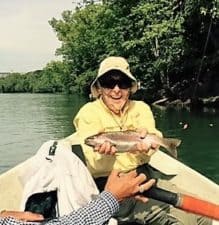 lady, Lea, out for the morning.  What a fun time.  This 88 year old lady could cast rings around many casters and what a delight to take fishing.  She caught fish on the chartreuse egg and the white grub.  Dale spent the day on the water with Jim.   This was his birthday gift from his wife, Cheryl.  Good birthday fishing day for Dale catching on the tiger tail, peach egg and the ruby midge.  Dale and Jim always have a fun day on the water.  Last, but not least, Stan took Vince from Arkansas out for the morning.  Caught several fish, but really did not hone on "the" fly.  Stan said it was a fish per fly day.  Good news, no wind and temperatures in the upper 70s.
Sunday was another busy day for trips.  Jim out with Paul and Jeff from Kansas.  This was Jeff's first time,
so there was a bit of training going on.  They caught fish on the tiger tail, ruby midge and peach or yellow egg patterns.  Gina has out a couple young men from Kansas, Jordan and Nick.  Jordan took our fly fishing school in 2013
and they both fished with Gina in 2014.  Back for more.  They caught fish on the tiger tail, white grub and pink worm.   Darrell and Carolyn had a father and his three, grown sons on the water for the morning.  This was part of Dad's retirement celebration.  Darrell had John and Andrew.  They were catching on the red San Juan worm.  Carolyn took Aaron and Adam.  Our best pattern most of the morning was the red San Juan worm under the big ruby.
Later, we started stripping the tiger tail with another streamer trailer.  For a while it was the tiger tail.  As the day got brighter, we tied on the holographic green crackleback as
the trailer, and they started hitting that.  Again, last but not least, Stan on the water with Rodney from Kansas.  They had a good day on the white grub, and things were back to normal….it was windy!