It has been hot and humid the past few days and I think we have more in store for the next several days.  Mid to upper 90s and possibly hit 100 degrees by this coming weekend.  Good time to stand in the cold water!
Generation schedule has been pretty up and down all week.  It's supposed to come on at 2:00 p.m……it comes on at noon.  It's supposed to be on all day….they don't turn it on until noon (that was the case today).  As I have said many times….that's life in a tailwater!
Jim out last Monday with Barry and his son,  Brandon.  New fly fishers and a tough day.  I think Brandon was the fish lander that day.  Dad was happy to watch him catching on the red midge, miracle scud and copperhead black midge.
Tuesday, Jim took Larry and Jim out for half a day.  It was a P&P and blood worm day.
Thursday, Ted from Kansas took a short half day with Jim.  Another touch day, but they managed to land some on the P&P.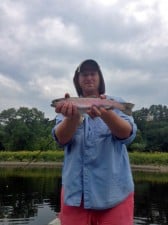 Saturday, Stan took Dennie and his grandson, John out for the day.  Slow start in the a.m, but about 11:00 a.m. the fish decided it was time to eat.  Good day, mainly on the P&P and then the holographic green crackleback on the sinking leader once the water started moving a little more.   Jim had Brent and David out for half a day.  These new fly fisher caught a few fish, but Jim said there was no best fly for them.