So far, this is our first day without rain for several days.  Only 10% chance today, but looking at the sky, I'm getting worried.  80% chance for rain tomorrow.  Friday and Saturday look pretty safe with temperatures in the 80s.  By Sunday, slight chances are back into the picture for a couple days.  Can't believe my eyes right now.  I see "O" chances from next Wednesday through Friday!…..to be continued.
Of course, with all this rain, you can guess what the water has been doing.  Ran all day Sunday, off for a little while early Monday and we have seen non-stop since then.  We are slightly above power pool right now, so MAYBE in a couple days we might see low or no generation?!?
Had a few slower than we have been experiencing days fishing last week.  Last Wednesday, Darrell had Don and Dennis out for half a day.  They caught fish on the black copperhead and P&P midges.  Couple new fly fishers, Josh and Jessica, went out with Stan.  Missed as many as they caught on the P&P and copper dun midges.  At least it was not raining!!!
Last Saturday was a bummer day!  Schedule said zero generation, so Dana and Carolyn took a group of four guys who were here for a wedding out for a wade trip.
I think we had guys from both the east coast and the west coast.  We had no sooner gotten through learning the roll cast and started working on the pick up and lay down cast when a horn blew.  Okay guys, get in the boats.  Despite the ups and downs…..literally, it was a fun day.  The red midge, CQ, crackleback and black midge under the big ruby were the bugs for the morning.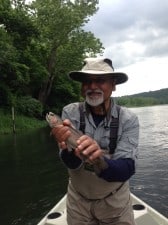 Amit – 6/7/14
Jim was out with Scotty and Rizzo.  He was grunching too because of the fluctuation of the water.  They caught fish, mainly on the CQ streamer, but it certainly was not one of his better days!
We have now had several days of pretty steady generation.  this should have the fish moved in to their normal holding patterns for the high water.  Unfortunately, about the time they do this, they'll turn the generators off.  Oh well, that's life in a tailwater!!