Weather forecast shows some relief from the heat. Monday and Tuesday should be in the low 90s with Wednesday and Thursday in the upper 80s. Forecast for humidity is also lower. Most of the week, we had generators off most of the morning; coming on in the early afternoons. Today it was off and they blew one horn at 3:00 p.m. they are scheduled to run one for three hours today then back off. Sunday looks pretty much like a duplicate pattern of today.
Thursday, Stan took Diana from Independence out for a half day drift. Diana is another lady who fell in love with fly fishing after a full day instructional/catching day on the water in April of this year. Her best pattern was the Primrose & Pearl midge.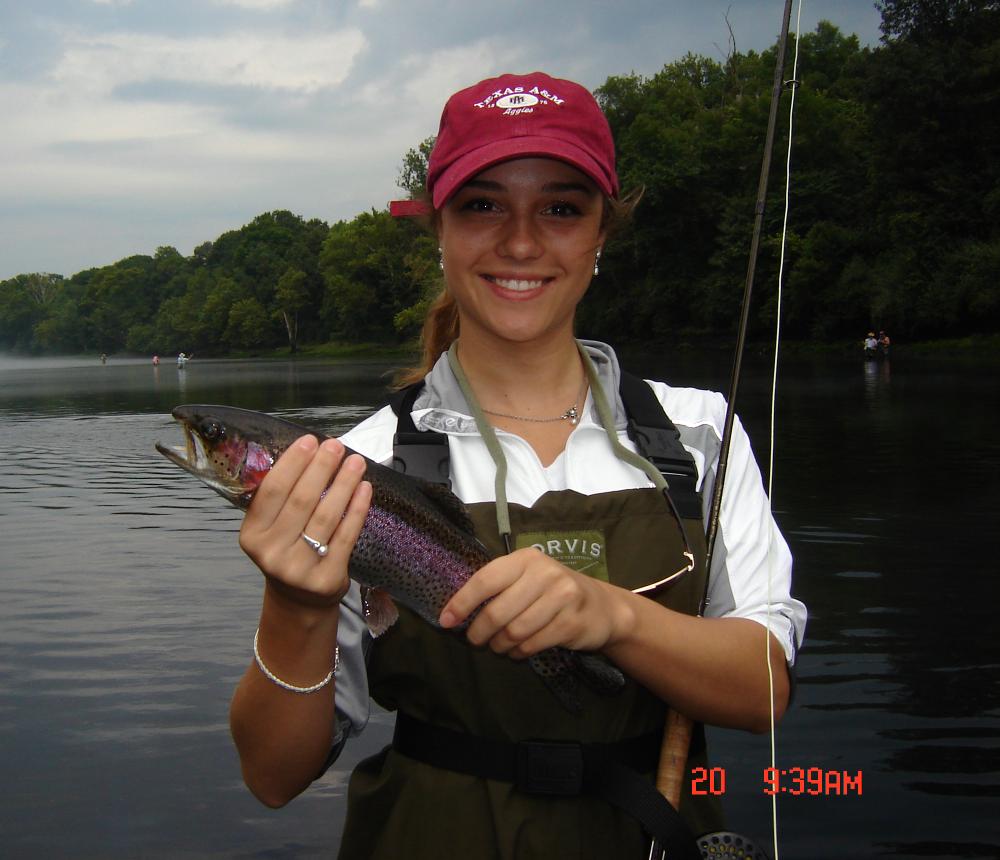 Lucy – 8/20/10
Friday, Jim and Carolyn had a fun family from Texas out for an instructional/catching trip. Carolyn took the ladies, Lucy and Olga and Jim took the guys, Jerry and Aaron. Once everyone got the basic roll cast and pick up and lay down cast, we worked with them on rigging and presentation techniques. They have a couple nice ponds on their place in Texas that have bass in them. They wanted some methods for catching them with a fly rod. We worked on dries so they could use poppers, as well as buggers so they could do some streamer work. Everyone finished the outting with a pretty good cast, definitely learned a couple knots and caught some fish on the black bugger, black ant, black midge, holographic green crackleback and the floozie. Stan had Mark and Fran out, also for half a day. Too hot to sit in the sun all day, even if you are catching fish. These two took our two-day school earlier this year and, glad to say, still at it and having fun. They had a good day on the black zebra and a red/black midge.