So far this week….knock on wood….they have followed the projected generation schedule pretty well. Off in the mornings from midnight to 6:00 a.m. when they turn on a low one generator for an hour or less. Stays off until 1:00-2:00 p.m. they start ramping up until all four generators are going. Around 7:00 p.m. they start shutting down so the tailwater level is back to a level of 701.6 around midnight. Weather is still hot. Temperatures in the 90s and heat indexes in the 100s. Little breeze yesterday which helped a little.
Mixed stories on fishing as the week goes on. Some folks are having a hard time, but Monday and Tuesday, those folks fishing in the hatchery area were catching fish on the light gray size 16 and smaller scud or sowbugs. One customer reported a very good day just above the boat ramp on a size 14 olive wooly bugger. Today it has been the dark gray scud and a size 14 and up to size 8 olive wooly bugger. Think some of the difficulty some are having is where they are fishing. Need to move around a little to find the fish.
Dana on the water Monday with Dana and her friend Annika, from Denmark. This was a total surprise for Annika as they had not told her what she was going to be doing Monday morning. She and Dana had a good time and caught fish on the red midge and copper dun midge, size 18. She was really catching on to casting before the morning was over. Stan had Craig and Trey, from Texas out for half a day. This was their first experience too, and they caught fish on the primrose & pearl size 18 midge.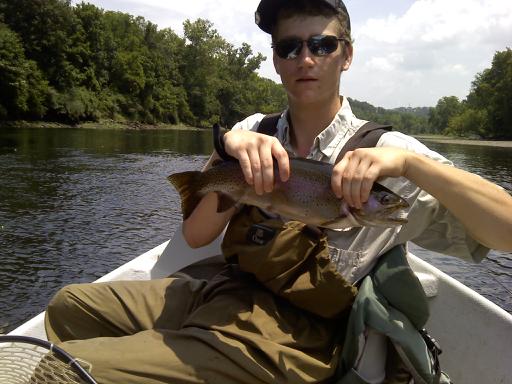 Trent – 7/20/10
Darrell took Trent from Minnesota out for half a day Tuesday. Trent is pretty new to fly fishing, so he learned a lot and caught some nice fish. Best fish of the day was the 22 inch rainbow he hooked on the size 18 purple midge. Way to go Trent!