Must say again, they have been pretty close with following the generation schedule most of this week. Pump a little water in the morning for one hour or less at about 6:00 a.m. then off until some time in the early afternoon when they run the equivalent of four generators for about eight hours. Been giving us some good wading time in the mornings to catch fish. Weather has even been cooperating. A bit warm, but no rain and even a little wind a few days.
This past Wednesday we had Stan and Jim on the water for half a day. Jim had Carl from Ohio out working on "everything" as Jim put it. Carl is brand new and really wanted to learn. Had a good morning on the water and caught fish on on the size 18 rusty midge, blood worm dropper and black midge. Think Carl had a good time! Stan had Rick McNary, from Kansas, out for half a day. They had a wonderful day on the primrose & pearl midge with a blood worm dropper. Stan also introduced him to the sinking like and a hololgraphic green crackleback. He really liked this!
One of Jim's regular, regulars, Bud and his friend Derek spent all day Thursday stripping the size 12 bugger, or tossing a size 18 black zebra pattern, and when that did not work, a gray scud. Fun day and they were both worn out when they came into the shop.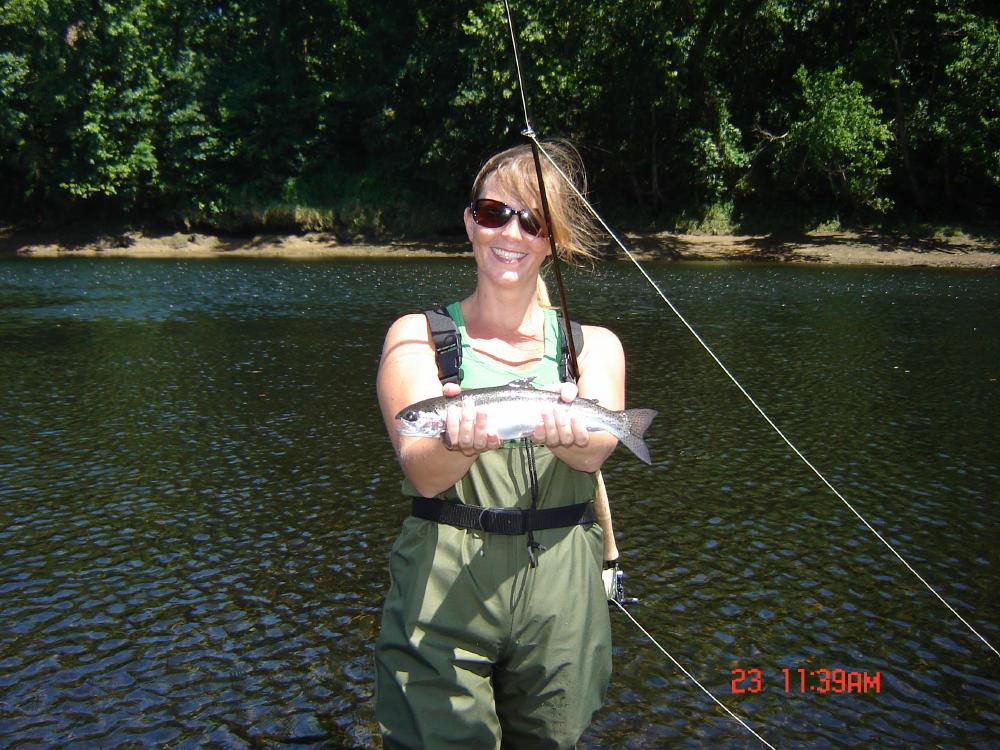 Tracy – 7/23/10
Friday, Bud had recoupled so he spent another day with Jim pretty much throwing the same patterns. Another good day and "pooped" Bud at the end of the day. Carolyn had Tracy and Bill, from the St. Louis area, out for half a day. This neat couple was ready to learn anything they could. Worked on Tracy's cast and she was throwing a good line by the time we finished the morning. Bill has a great roll cast and can get to almost anything he needs to. Had them working the floozieplume until the water came on then we switched to the big ruby with the cerise large San Juan worm and caught fish all the way down to Fall Creek. Stan and Gina were out with a group, some from Columbia, for half a day. Stan was with Jim and Andrew. Good day on the primrose & pearl midge with a blood worm dropper and the black midge with a copper head and copper wire. This was Andrew's first time with a fly rod and he certainly held his own!. Gina had Merrill and Melanie. Only married for about a year and pretty new to fly fishing. Worked the peach egg pattern, red midge and the olive floozieplume! Darrell had Steve and Chris our for the early morning. Chris is just home from Iraq. Steve got to spend the day with one of his boys, Chris. They boated fish on the purple midge under the Big Ugly.
Overall, fishing is probably fair to good. They have been a little picky on patterns, so keep on trying various things, and definitely try different presentation techniques. Looking for the best water will also help.