Generation continues to be running 24/7. However, the level has dropped from the 710 plus feet to fluctuating between 703.1 for a low to 708.9 for a high. We have seen this trend since early the morning of May 26. Table Rock is still two feet high and Beaver is still almost six feet high. Will probably seen continuous generation for a while. Some rain possibilities in the forecast for tonight into Thursday. Think the weekend was projected to be nice.
Good news! Fishing has been good to very good. We were really busy over the holiday weekend and had lots of boats out. All day Friday and Saturday, Jim and Dana had a group of guys from Minnesota and Kansas on the water. Bill and Buck were brave enough to get into the boat with Jim (Bill has been out with Jim many times) and Warren and his son-in-law to be, JJ, were out with Dana. Know they all had a good time and caught fish. Jim's guys were catching on the good old red midge with the orange San Juan dropper and his Bug-eyed sculpin. Dana's were also catching on the red midge, plus a peach egg pattern and a size 12 olive bug-eye bugger. Good way to break in a new son-in-law….take him fishing! Our Louisiana Connection, which has grown, was out with Darrell and Carolyn on Friday. Darrell took Albert and James Albert out all day, and Carolyn had Caroline (the new member and Dawn's mother-in-law) and Dawn out.
Caroline – 5/28/10
Caroline could only spend half a day on the water, but she had a fish-filled morning. She was also intiated into the "stripper" club. First time she stripped cracklebacks and caught a fish on her first three strips. She thinks she really like this! Darrell was using holographic green cracklebacks and the red midge. They were also experimenting with lots of other patterns on which they caught fish, but those two were the most consistent. Carolyn's gals were using the big ruby midge, holographic green crackle back and a size 18 copper dun midge dropper off the big ruby midge. Everyone was using the intermediate or 5.6 ips sinking leaders when stripping the cracklebacks.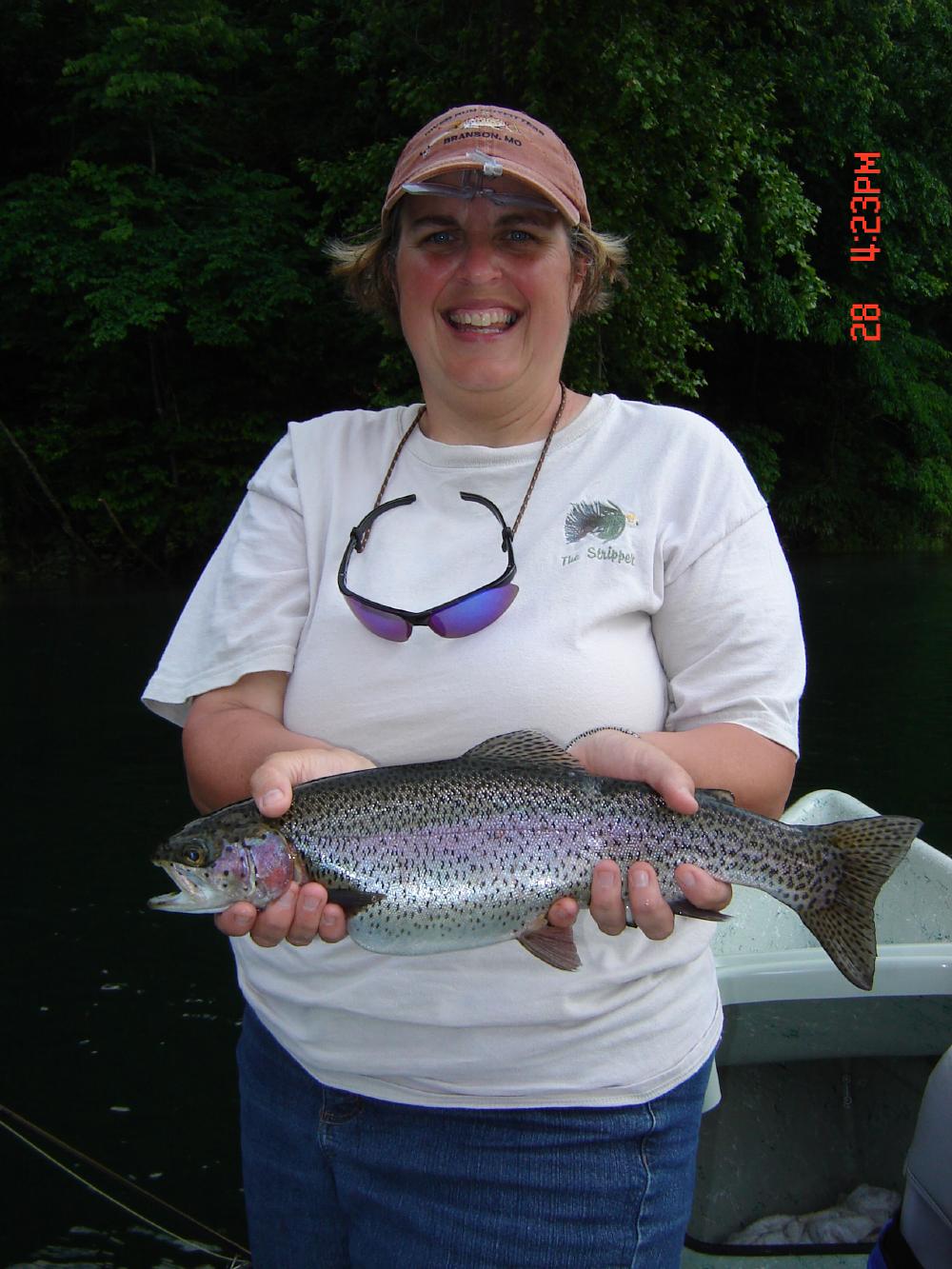 Dawn's 19 inch Rainbow
Check out the smile on Dawn's face after she hooked this 19 inch rainbow on the big ruby midge. This was really a nice fat fish. Most of the fish we have been catching are fat!
Saturday, Darrell had Jeff and Nate, from Arkansas, out again. Nate is a nice young man who is becoming a good fly fisher and out fishes his father on occasion. They did very well on the holographic green crackleback and the red midge.
Stan had Brian from Oklahoma out for a half-day float Saturday. Brian had been with us before and had a good day on the big ruby with a Primrose & Pearl dropper and the crackleback.
Sunday we were all on the water again. Stan had Justin and Houston from St. Joseph out for a half day. Once Houston got back in tune with fly fishing, he caught into fish with the big ruby and size 18 ruby dropper. Justin was stripping the holographic green crackleback, which he really enjoyed. Jerry, his two daughters, Keri and Sarah, and his son, Nick spent Sunday with Jim and Gina. Sarah is brand new to fly fishing. She and Jerry took the boat with Gina, and Nick and Keri went with Jim. Jim fished the red midge with an orange San Juan dropper while Gina waas using a size 18 burgundy midge, orange San Juan worm, peach egg and an olive wooly bugger. Sarah persevered with this new sport until she stuck and landed several fish. She even caught a couple stripping a wooly bugger. We have a work in progress here!
| | |
| --- | --- |
| | |
| Jerry's 17 inch Rainbow | Sarah's first fish to the net |
Dana also had a new fly fisher on the water. He had Justin and his wife Lisa from Kansas. These two were on their honeymoon. Lisa rode along on the trip to watch Justin and enjoy the river. Justin boated fish on the olive filoplume, a size 12 bug-eye bugger and the red midge.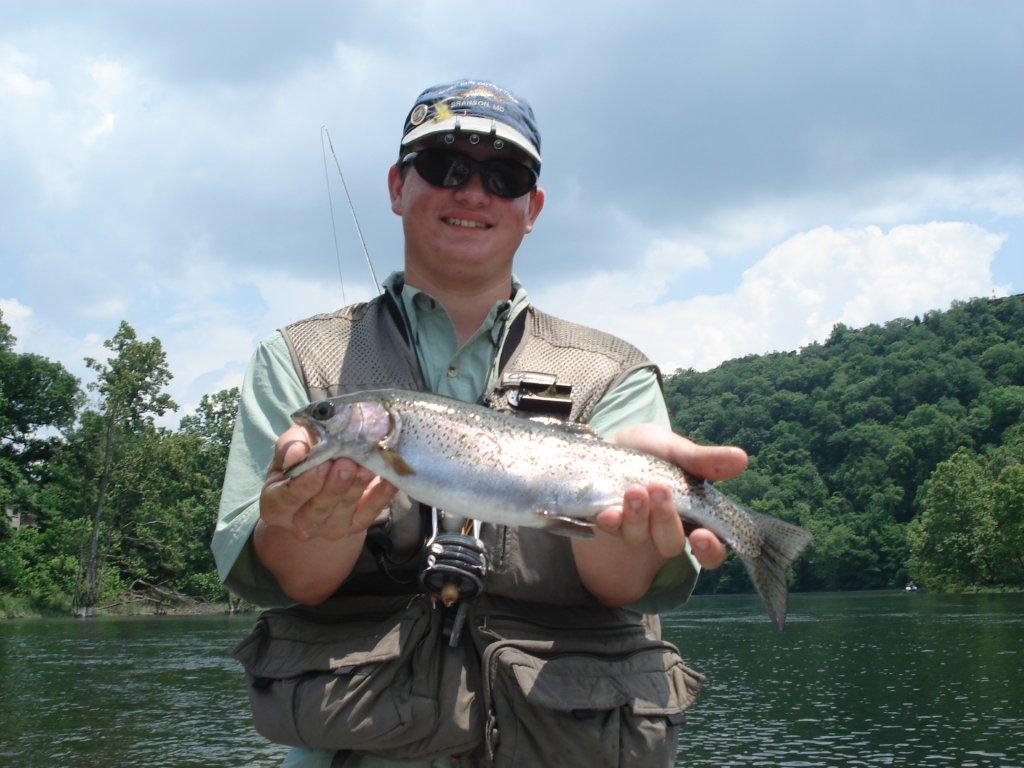 James Albert – 5/30/10
And, the Louisiana Connection was on the water again! Darrell had Albert and James Albert out all day. This young man, James Albert, is really starting to throw a line! Carolyn had Dawn out all day, and what a day we all had! It was an olive filoplume, green crackleback and red midge day. Dawn also caught a bunch on the flaming orange flat braid bodied, ginger hackle crackleback. Catching was so good, Dawn and Carolyn stayed out a little too long and a "scattered shower" downpour is more like it! caught them before they got off the water. Found a safe haven under the roof of Fall Creek Dock.
Monday, Carolyn walked into the shop expecting to take out a couple new fly fishers. Mike and Jan, from Oklahoma had booked half a day for their daughter and granddaughter. As it turned out, daughter and granddaughter really wanted to spend the day at the pool, so Mike and Jan 'sacrificed' and took the half day trip they had booked! I have mentioned Mike before. He is now a retired doctor who lost his sight a little over a year ago. He and Jan both are avid fishers and good fly fishers. There was lots of fog on the water when we started in the morning and fishing was a bit slow. As the fog lifted and the day went on, fishing picked up and Jan talked Mike (hard job) into make a day of it. We have a great day on the water stripping the holographic green crackleback and olive size 12 filoplume. Normally, Jan outfishes Mike, but I think this was Mike's day. Lots of fish and his best was a 19-1/2 inch rainbow.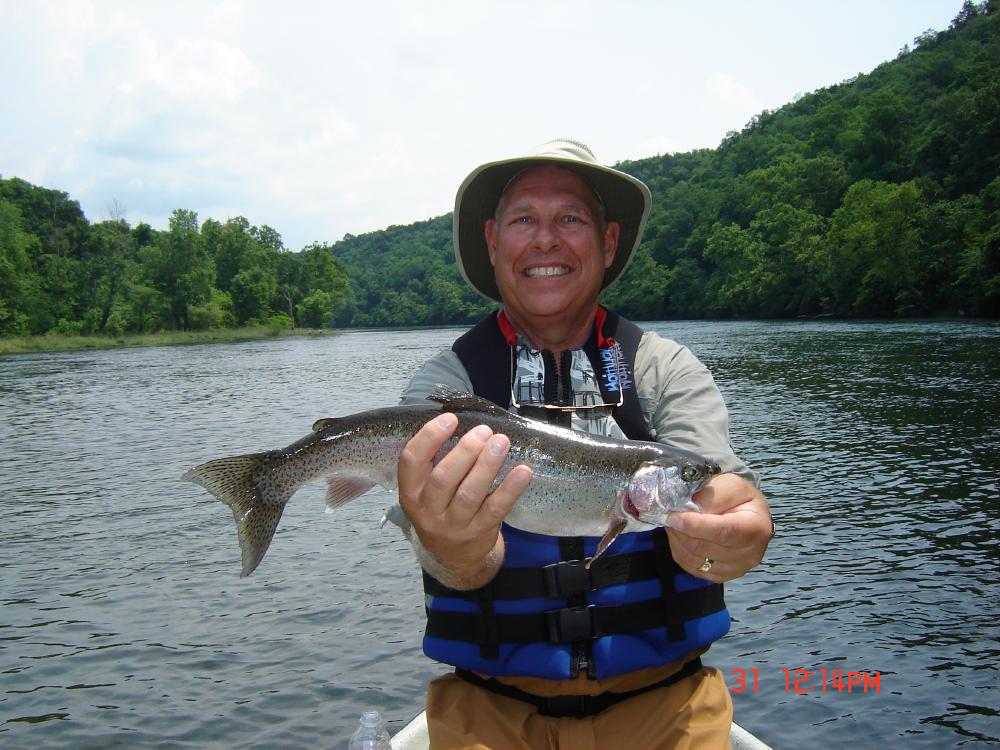 Mike – 5/31/10