Certainly has been nice getting up in the morning and heading to work in 50 degree temperatures. Warming up a bit during the day into the low to mid 90s, but absolutely refreshing early in the mornings on the water! Expect to see temperatures a little warmer than 50s for the low this week, but upper temperatures appear to be in the mid 90s or lower. Have had some wind the past three days, but we can handle that! Last Sunday we have off water until 2:00p.m. when they ran the equivalent of two generators for less than two hours. Off the balance of the day into Monday where they turned on four generators and kept them running six hours or better. Once they turned down the generation, they kept pretty much a low flow all week. Thursday at midnight they turned them until around 2:00 p.m. Friday, they turned on the equivalent of three until 9:00 p.m. Friday. For the wade fishers Saturday, we did not get generatiaon until around 3:00 p.m. and it was scheduled for only a couple hours and should be off tonight. Pretty much the same pattern for Sunday, but we expect to see at least the equivalent of one generator all day Monday.
Last Sunday, Jim had Cooper from here in Branson and Tom out for a half day float. Cooper has been out with Jim several time so Jim works on different techniques each time they go out. This time it was streamers and dries. They had a good day on the black wooly bugger and a black ant.
Wednesday Carolyn had Richard from Kansas in the shop for his first day of a two-day fly fishing school. He worked on book learning in the morning; bugs, equipment, water reaching, knots, and stream etiquete. After lunch, we went to the water to learn the basic casts; roll cast, pick up and lay down and started working on false casting and shooting line. Thursday, he spent all day on the water with Stan where he applied the information he learned on Wednesday; tying his own knots, rigging for various presentation methods, recognizing hits, hooking and playing fish. Richard had a good day on the water catching fish on the black zebra soft hackle, Primrose & Pearl midge, red midge. Did do some streamer work with the filoplume, crackleback and olive wooly bugger. Hits, misses……to be continued.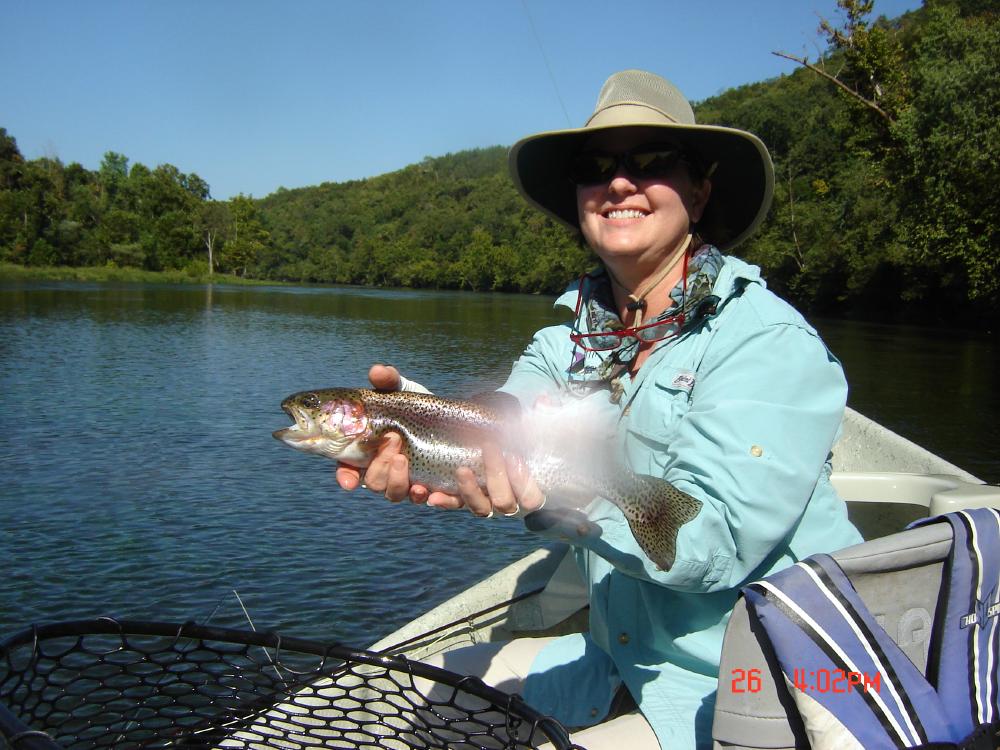 Jennifer – 8/26/10
Friday, Carolyn on the water with Blake and Jennifer from Texas. they had just finished the two-day school at Dogwood Canyon and wanted to apply their skills. Sorry about the picture Jennifer. Looks like there was a water drop on the camera lense. Worked a little on casting, but mostly on catching. Good day on the red midge, black wooly bugger and floozie. Now they are going to practice a lot, right guys? and get ready for catching red fish on the fly rod.
Saturday, Carolyn had Mary Ann and her cousin, Mary, aka "turkey" on the water for a long half day. Good day on black zebra midge, Primrose & Pearl midge, black wooly bugger, floozie, and even the holoraphic green crackleback. Mary Ann is a seasoned fly fisher. Her cousin Mary has not picked up a fly rod for a couple years. We worked on her casting a little, but mostly, she worked on catching.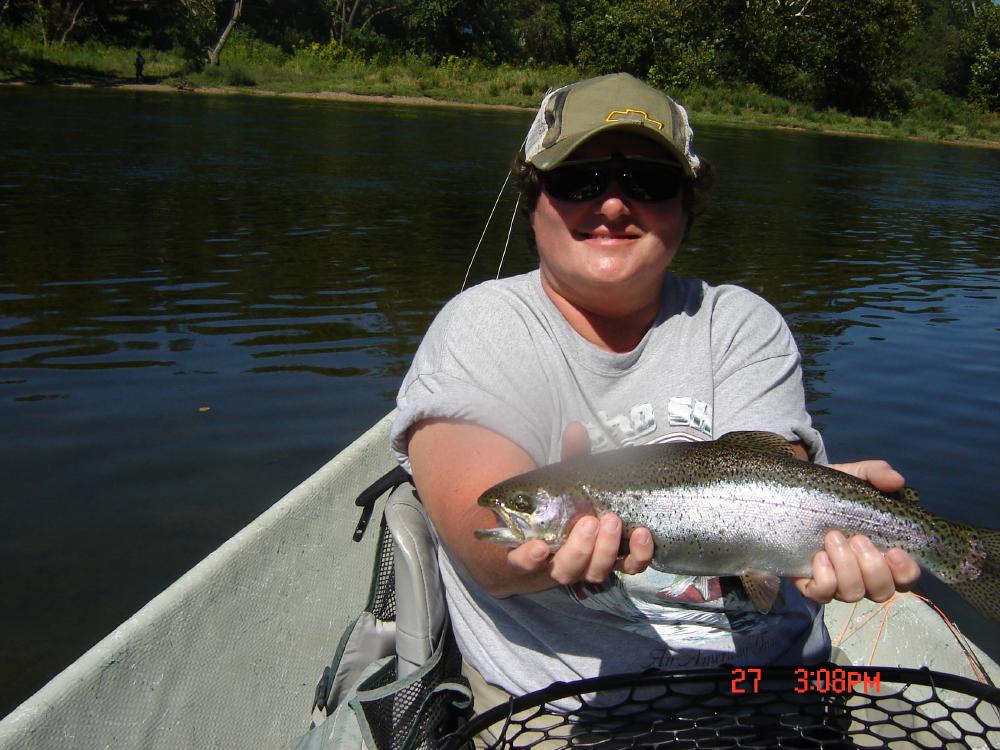 Mary Ann – 8/27/10