What a wonderful sound…..rain. We had a little rain Monday, some scattered showers Tuesday and another shower again today. Expect to see more today and into tomorrow. Temperatures has been in the upper 80s and mid 90s. With the rain, of course, it is a bit humid. Generation pattern was off Friday until 2:00 p.m.; off Saturday and Sunday except for a couple hours around 2:00-3:00 in the afternoon. Monday they did runn a low two generators all day, yesterday it was off until 1:00 and today the projection is for it to be off until 3:00 p.m. or so. Getting lots of wading time in the mornings and for those night owls, late at night or very early in the a.m. Think we will continue to see the pattern similar to this unless we get a lot of rain.
Darrell had Malcom and one of his friends, Larry on the water Saturday. They are both members of the Fly fishing Club in the St. Louis area. They had a good day on the water with the size 18 black zebra and primrose & pearl midges. Also caught several on the peach egg pattern. Nice fish guys!
| | |
| --- | --- |
| | |
| Malcolm – 8/28/10 | Larry – 8/28/10 |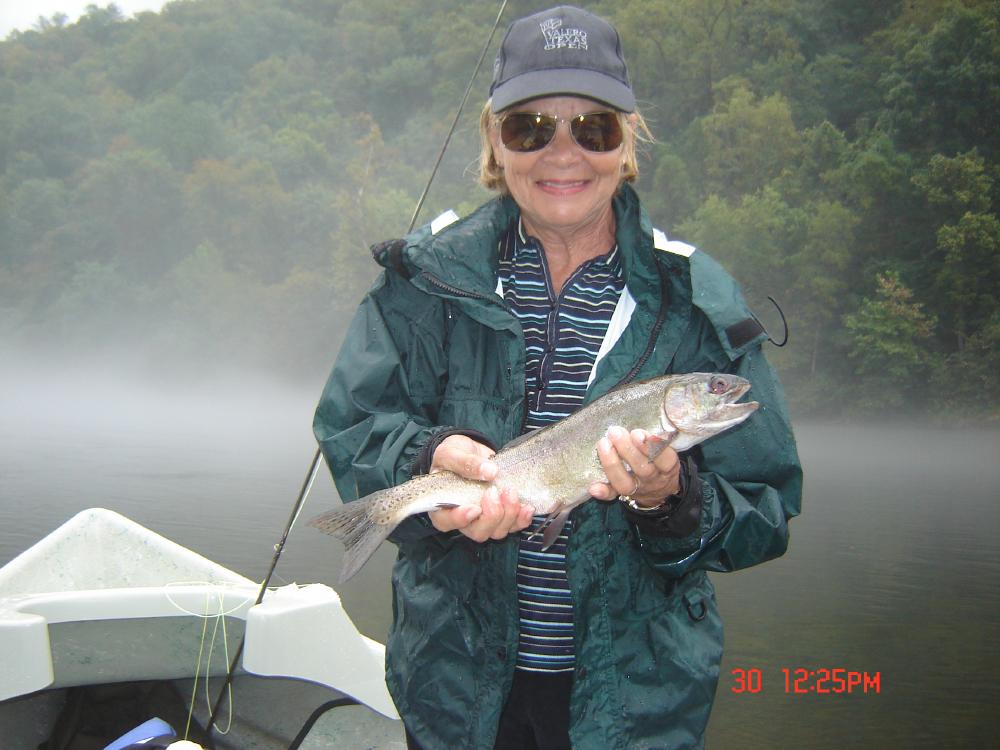 Evelyn – 18" rainbow
Monday brought an overcast sky, a bit of wind, and two generators running low. Jim, Stan and Carolyn were on the water for half a day with a group, most of whom were here for a meeting. Stan had Andy and Chris. Andy is from Branson and Chris is from Tennessee. Both these guys are fly fishers. Jim had two brand new to fly fishing guys, David from Texas and Ed, who is also from Tennessee. Carolyn had Pat and Evelyn, both from Branson area. Pat has been fly fishing for a while, but had not touched her fly rod for over a year and Evelyn was new to the sport. Lots of hits, catching, missing, and tangles. Flies of the day were the black zebra with either a blood worm or copper dun midge dropper, the purple and red midges, and a black wooly bugger. Evelyn's first time with a fly rod was rewarded with a nice 18 inch rainbow that she nailed on a size 14 black wooly bugger.