Miserable this past Saturday.  Today was not great, but the wind laid down, the sun was out and the temperatures were in the mid 40s.  What a difference!  Looks like we are in for a run of 30s and 40s days over the next week with chances of rain Monday.
Generation schedule has changed a little.  Running some water during the morning hours, then off for 5-6 hours and back on for a few hours late in the day.
Jim on the later last Tuesday with Ron and Bob from Arkansas.  Pretty good day for them on the ruby or olive midges and a gray scud.
Dana out Thursday with Jeff from Lake Tapawingo.  Good day for Jeff on the ruby 2 midge.
Mark and Bud fished with Jim Friday.  They had a good day on the black copperhead midge and the blood worm.
Cold Saturday, Alexandra and Brent fish with Dana.  Good day for them on the ruby 2 midge.
This was the weekend for the River Runners Women's Fly Fishing Club to come home to Branson.  This event happens every year in November.  Twenty-one ladies gathered at the shop Friday evening to meet and greet.  Lots of snacks and lots of hugs and "glad to see you again" that evening.  We even had our own entertainment!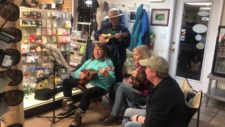 The next morning, we all met at the shop. Several brought items to eat and we had breakfast fit for a king.  More meet and greet, tied some flies and waited for the generators to shut down.  Once that happened it was to the river to fish and freeze.  We finished off the day with a hot meal!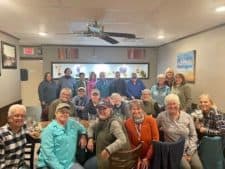 Friday was Gina's birthday.  How about this for a birthday present!