Can't believe it is July.  Just a couple days ago, the high was in the upper 70s and overcast.  Yesterday was in the 80s and so far today, 89 is the high with a nice breeze.  Looking at the forecast, I see mid 870s through the weekend and into mid week.  Wow!
Turned the generators off yesterday morning for a few hours then opened up two generators.  This morning, it was one unit until 9:00 a.m. then two for an hour and now they are running three.  We are near power pool, but sure someone somewhere will need power.  Would be nice to see them off during the morning hours for a while so we could wade!!
Dana on the water last Tuesday with Corena and Mason.  Their patterns for the morning were the ruby 2 midge and the eggstacy egg.
Last Wednesday, Darren and Carolyn took out the Allen clan.  Carolyn had John and Levi and Darren took Joel and Brett.  Fun day for everyone.  Darren's boat was catching on the red San Juan worm, a #14 gray scud
and the black copperhead midge.  Carolyn's boat was catching on the black copperhead midge under the big ruby or a white grub.  Levi had a good day.  Jim was guiding Jim and Wayne from Kansas.  They had a slow day on the ruby midge.
Thursday, Jim took Ed and Ethan out for half a day.  They worked on refining cast, and line
management.  Also caught fish on the tiger tail and the ruby midge.  Really good day for Dana's guys Arlan and Rick.  Their patterns
were the eggstacy egg, a hare's ear, and the JQ streamer.
Friday, Darren took Chris fishing.  Good catching day for them on the ruby 2 and thread midges.  This was the day they had the water off for a few hours in the morning and fishing was awesome.  Travis and his son, Scott, were fishing with Dana.  Their patterns were the ruby 2 and black copperhead midges.  Carolyn had some students on the water for their day of presentation and they were catching on a ruby 2 midge.  Fun way to start fly fishing.
Saturday, Jim took Roger and Wendy from Wisconsin out for half a day.  Caught several fish on the good old gray scud.
Diego and Jose from Texas fish with Dana on Sunday.  Tough day but they landed some on the eggstacy egg, a gray scud, and the black copperhead midge.
Jim described the fish as "pick damn fish" on Monday.  Phil and Jose fish with him and caught a few on the ruby midge and a scud.  Carolyn had a couple students on the water.  One of them was pretty new to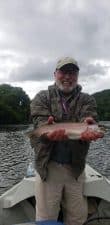 fly fishing.  The other had been fishing for several years.  They had a fun day catching on the cerise San Juan worm under the big ruby.  Darren's guys, Nick and Mike did not catch many, but they caught nice fish.  Their best combo was the San Juan worm with a scud dropper.