With the overcast days, I could not get a picture to do justice to the trees right now.  Think they won't be around too much longer either as we have had lots of wind the past two days and the leaves are quickly being blown away!  Thanks to the wind, we have had several brisk days!  Looking at chances for rain Monday, but Tuesday looks great!  Sunshine and mid 60s.  Wednesday will be partly sunny with temperatures in the upper 80s.  Friday and Saturday are looking like sunshine and upper 40s to low 50s.  Partly sunny Sunday and low 50s.  Not too bad if the wind is not blowing!!!
Generation continues to be nothing during the morning hours and then one or two units on for an hour or two late in the day.  The projection for Monday is more of the same.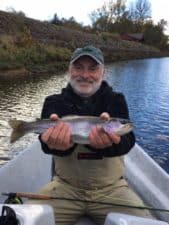 Great 40th anniversary surprise present!   Denise booked a half day fly fishing trip for herself and her husband Jim.  Gina had the fun of take these two out the past Friday.  Good day fishing for them which just made it all the better.  This was a first for Denise and she did great.  They finished up their day with a double!  Patterns were the black copperhead and ruby 2 midges.
Saturday, Gina took Bill and his wife, Janice out for half a day.  These two are brand new, so they spent a little time working on the various cast so they could get their flies into the water.  They had a fun
day hooking fish on the black copperhead and ruby 2 midges.  Megan and her husband Mason fished with Carolyn.  Slow start to the day, but we finally started catching some on the P&P midge and JQ streamer.  Megan has fished with us before and she want Mason to try fly fishing.  He does lots of other fishing, but not fly fishing.  Caught on quickly and was soon pulling the JQ streamer.
Sunday, Darren took Andy
and his son, Drew out for the morning.  Another cool, blustery day, but they
stuck it out and caught several fish on the rusty midge, black copperhead midge trailed with a size 18 scud.
Not a lot of fish being caught right now, but most folks coming into the shop and commenting on now many more larger fish they are catching.  AND, they are really pretty right now.