33 degrees with a winter weather advisory?  We are expecting a little snow this afternoon, but it will be out of here by this evening.  Tomorrow will be cold and windy!  Sun coming back out on Tuesday and mix of sun & clouds with temperatures in the upper 30s.  Maybe back into the 50s by Wednesday and Thursday.
No generation most of Saturday, but generation all day today.  Tomorrow they are supposed to have the generators off four 7-8 hours in the middle of the day.
Stan on the water this past Monday with Bobbi and Tom from Kansas.  WINDY day.  I think we had 40 mph gusts.  Sure looked like it at one time when I saw the three of them just gliding up the river.  Despite the wind, they caught fish on the P&P.  Jim was out with Bill from Georgia.  They had a good day on the P&P and B-bug.  Carolyn had Sam out for his 2st day of the 2-day school.  Since Tuesday was turning to "pot" weather wise, we opted to do the river first and the classroom second.  Fun day, fun guy.  Before catching, casting was looking good.  After first fish, cast went south……normal.  Sam fished the midges, and stripped both with and without a sinking leader.  It took us a while to get a picture of one of Sam's fish.  We could hook them, but we could not hand on to them long enough to get a pic.  First fish was pretty nice…into the water it went..second fish was a little smaller…into the water it went.  Finally, we managed to hang onto one and get a picture of a fish and he was the smallest of the day!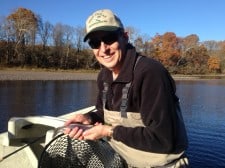 Sam – 11/10/14