Weather continues to be cool today.  From this morning's forecast, looks like we may have a pretty windy one today.  Tomorrow will still be cool, in the 50s, less wind, and overcast.  However, forecast for the weekend looks good.  Temps in the 60s and sunny.  Hope this is right!  Generation schedule has been pretty right on.  Little generation Monday, Tuesday, and again today.  They projected one generator this morning at 7:00 a.m. for one hour and they did it.  Should be off the balance of the day.  And, reports from the river are good.  Folks catching fish on almost everything, including a few dries!
Several of the gals could not resist one more day on the water, so they hit Taneycomo again on Sunday. Great day for all of them.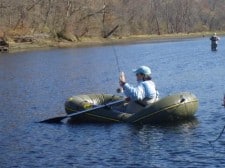 First picture is interesting, Valley in a raft!   This gal, from Oklahoma is a fishing machine.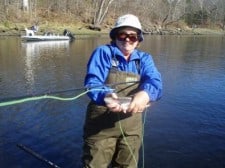 Check out Lorraine. This is her first trout ever on a fly rod.  Was she excited.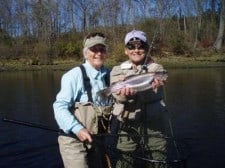 This dynamic duo is Gina and her sister Penny. If you know Gina, you know she will try to get everyone in her family hooked on fly fishing! She certainly did it with Penny.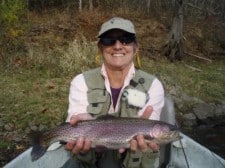 Last, but certainly not least, we missed  this picture earlier of Carolyn, from Arkansas, with her nice rainbow.  Nice fish Carolyn! 
All the women had a wonderful time laughing, sharing, fishing, catching, and just plain having fun this past weekend.  Until the next time, watch out Taneycomo!  We'll be back!