Somehow my post "Time Flies When You Are Having Fun!" pretty much disappeared. Sorry! Anyway, here we go again on a new one, and guess what? We are still having fun.
Weather continues to be absolutely beautiful. Don't know if we could ask for much better weather than we have been having. Enjoy it everyone….it will come to an end. Outlook for the coming week continues to look good, with a possibility of rain only on Tuesday. Generation pattern, on the other hand, has been bizzar. Last Sunday it was off all day except for one hour late in the afternoon. On all day Monday, then off most of Tuesday except for a four hour window in the afternoon. Wednesday, no generation until 1:00 p.m. and it ran the rest of the day into Thursday morning. Turned it off Thursday morning at 8:00, then back on in the afternoon about 2:00 for six hours. Off until 8:00 a.m. Friday morning when we saw four generators at 6:00 in the morning for a couple hours, and then ramping down until they turned them off at 10:00 p.m.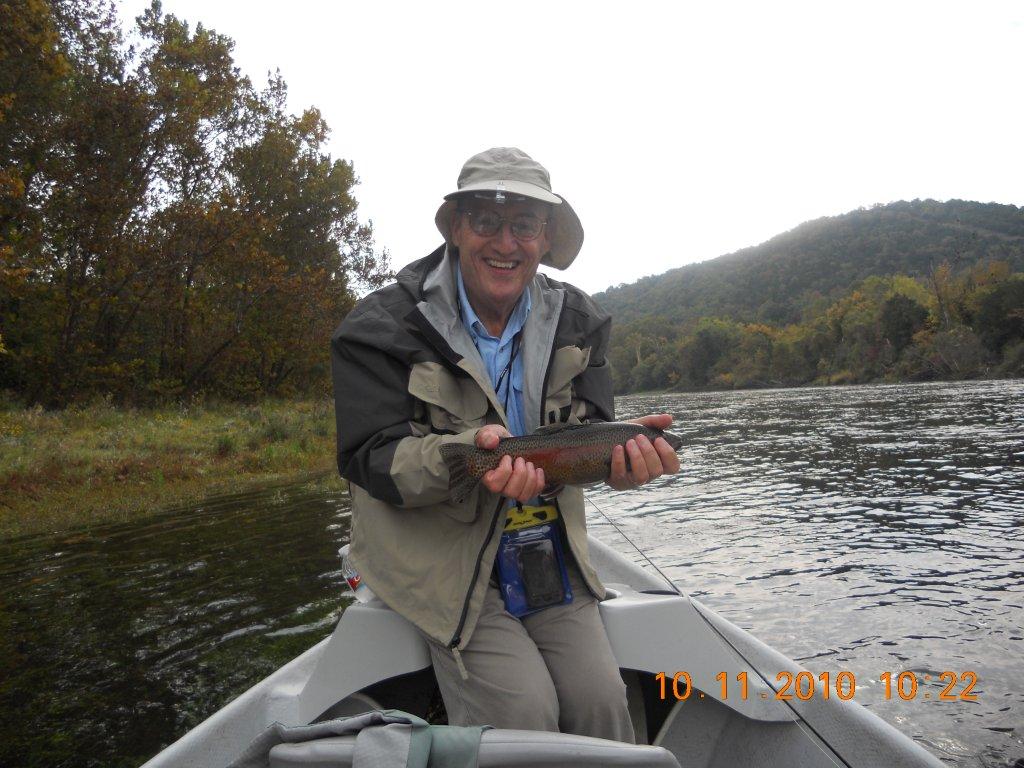 Earl – 10/11/10
Last Monday, Darrell, Stan, Dana and Jim were all on the water. Darrell had Miles and Earl, from the St. Louis area out Monday and Tuesday mornings. What a pair! Good day for these two guys on the black zebra midge and a San Juan worm. Mike and Ken, from Kansas, took a full day with Stan. Mike is fairly new to fly fishing and Ken has been with us for several years. They had a wonderful day on the red midge and holographic green crackleback. It was a good quality day, several nice size fish, beautiful weather and 2 units running at 705 feet.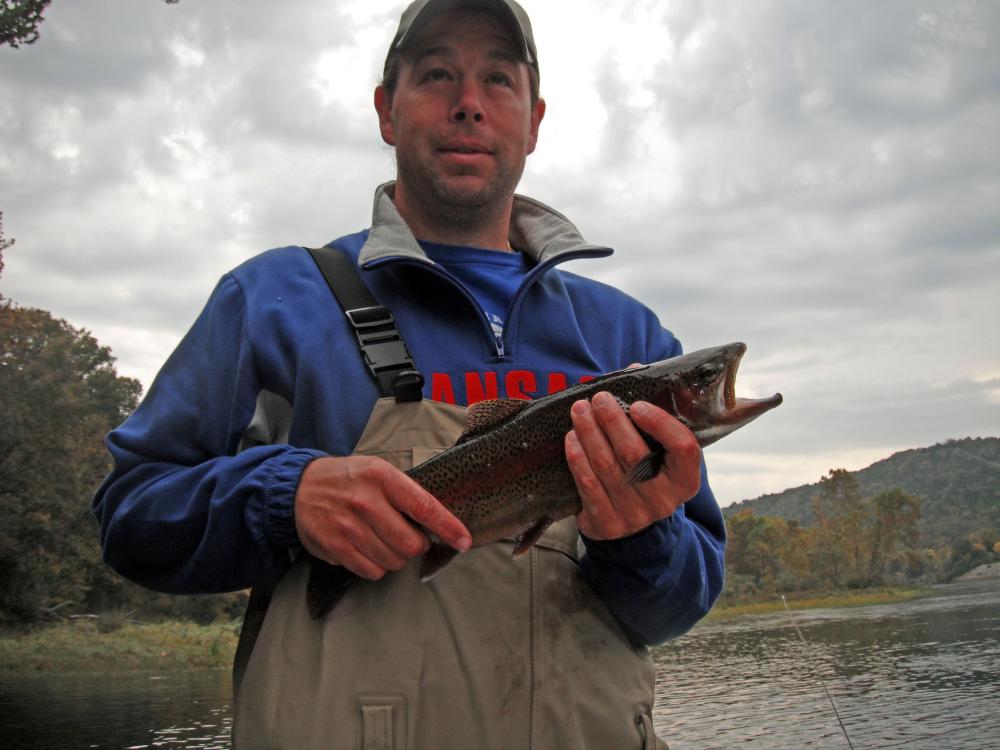 Scott – 19 inch rainbow – 10/11/10
Dana had Scott and Robert, from Illinois out all day. They normally fish with Stan, but Dana showed them a good day on the red midge and crackleback. Roger, from Arkansas, spent the day with Jim. Roger has not fished too much in the past three years and wanted to get back into fly fishing, learning the area and catching fish. Their patterns were the red midge, gray scud and olive sculpin.
Tuesday, Stan, Jim, and Gina took out a group of five people here on business. Water was off, so Jim grabbed the two ladies who are brand new to fly fishing, Peggy and Erin, and started them through the roll cast, pick up and lay down cast, a little false casting, and finally let them fish a soft hackle, a size 16 red ass. Gina took Jeff. Did some casting work to get started, then caught some fish. Got Jeff to casting a sinking leader so he fished a floozie and the 56er on a sinking leader, and a copper dun and ruby midge on regular floating line. Doug and Buddy got stuck with Stan. Both are first time fly fishers and did pretty darn good. They caught fish on the black zebra and coper dun midges.
Carolyn took John, from Illinois, and his son Kurt, from Springfield, out all day Wednesday. Gotta say, John is a hoot! He just sits quietly (some time) in the back of the boat catching fish. We did get off to a slow start, but finally, the rusty midge was the ticket until they turned on the water. Changed to the red midge with a San Juan dropper to continue catching fish. Stan had Chuck, from Colorado out to celebrate his 75th birthday! His daughters, Cheryl and Penny purchased a 1/2 day float with Stan for this special occasion. He had a wonderful day catching fish and eating birthday cake. They were catching fish on the rusty midge, size 18 and a 56er.
Thursday, Carolyn started the first day of a two-day school with Larry and Grace from Illinois. The school was a retirement present from their daughter. Day one was spent in classroom in the morning, then on the water working solely on casting in the afternoon. Much to their surprise, after a few hours, they could get the line out onto the water! Stan and Jim had some more folks from the business group they took out on Tuesday. This time Stan had Wayne and Rod. Don't know who Jim had out. Fair day for Stan's guys on the big ruby, holographic crackleback, and olive size 14 wooly bugger.
Friday, Larry and Grace finished up the two-day school by spending it on the river. They did all their own assembly and rigging, Although we tried to catch fish on soft hackles and streamer patterns, the best patterns were the rusty midge, size 18, under a UV gray size 14 scud. Think we will see this couple spending more time together on the water.
| | |
| --- | --- |
| | |
| Larry – 10/15/10 | Larry netting one of Grace's fish |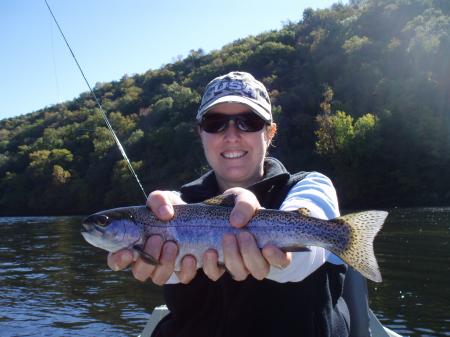 Melissa – 10/15/10
Gina also on the water working with someone who wanted to learn and improve their skills. Melissa wanted a fly fishing trip just for her, and her husband obliged by getting this for her birthday present. She did improve her skills! Tough for them in the a.m. when the four units were going, but things improved in the afternoon. They fished the red midge under an egg pattern, and worked various streamers (floozie, crackleback and olive wooly bugger) to help her with stripping presentation. Kansas day. Melissa is from Kansas, and Don, who Jim had out all day is also from Kansas. Don and Jim had a good day on the size 14 red holographic midge., a size 12 gray scud and the pink San Juan worm dropper. Last, but not least on Friday, Brandon and Eric, from the St. Louis area, spent the morning with Stan. Good day on the red midge, pink San Juan and a holographic green crackleback.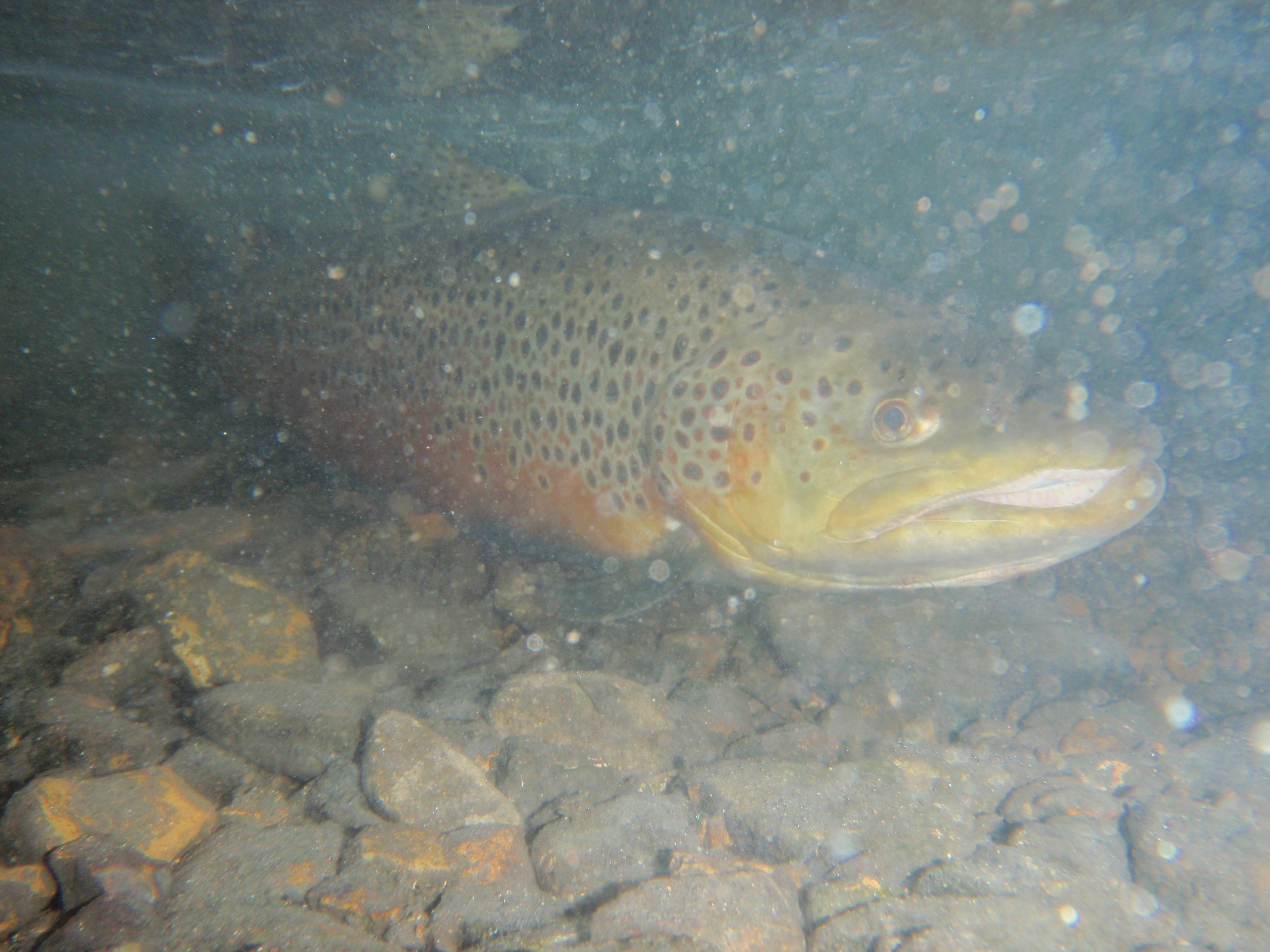 Brown – 10/16/10
AND, how about this for a nice Brown? Darrell, one of our guides, caught this beauty on a tan scud yesterday around 6:00 p.m. down below outlet 2. Best of all, it is a picture of him, the Brown, being released! They are seeing several browns up in the Hatchery Area. Some being caught, and definitely some being lost!