Generation schedule continues to be a bit erratic. What's new? Off last Sunday until midnight and Monday through Wednesday, they ran water 24/7. Thursday we have eight hours of no generation from mignight until 8:00 a.m. when they ran the equivalent of one generator until 8:00 p.m., then off again until Friday just about 1:00 p.m. when we had the equivalent of one generator for five hours. No water from 8:00 p.m. Friday until 7:00 p.m. Saturday night. They ran two generators at the equivalent of one until 10:40 a.m. today when they turned on the third generator (not projected) and are still running three. They projected generation all day today, but not at the level they are running. Projection for tomorrow is off, then on for 3-4 hours, then off for 5-6 hours, then on for 3-4 hours. Interesting. Still lovely weather. Had a pretty good rain shower yesterday afternoon and some last night, but that appears to be the end of it. Tomorrow is predicted to be in the lower 80s, and the rest of the week on the 70s to upper 60s. The folage, especially around the lake, has really turned during the past few days. It's pretty nice here in the Ozarks right now.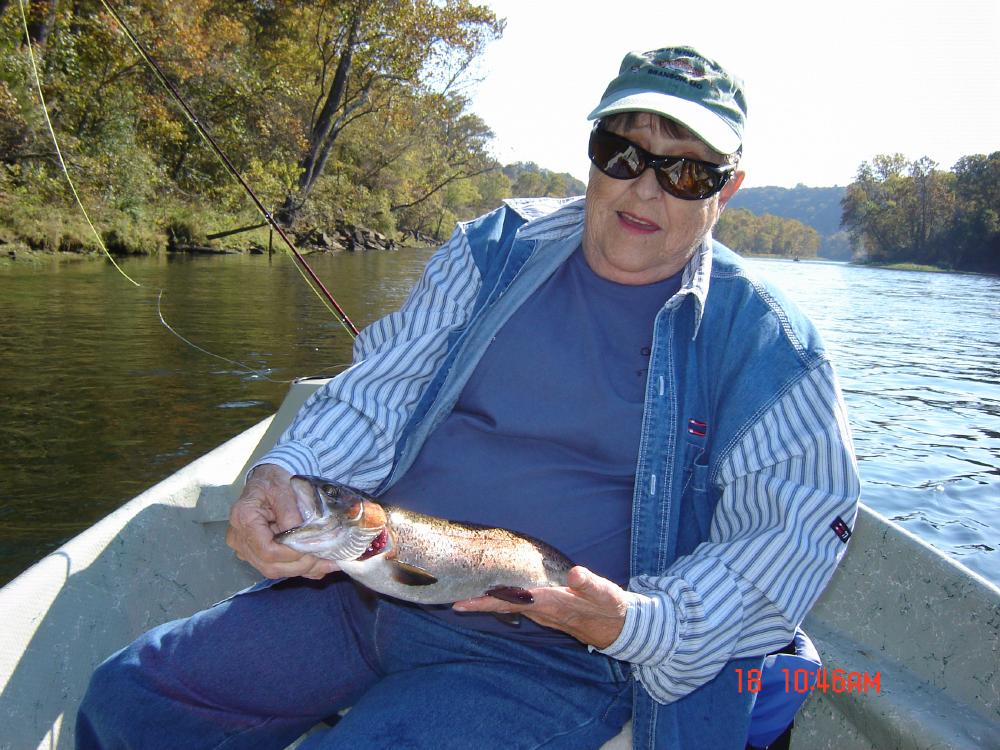 Wanda – 10/18/10
Carolyn's regular, regulars, Wanda and Joanna, spent half a day on the water Monday. Caught several nice rainbows, in the 16 to 17-1/2 inch range. It was a good day for nice, fiesty fish. Best patterns were the UV gray scud with a rusty midge dropper, or the big ruby with the rusty midge dropper. Jim had John and Ron, from Minnesota, out all day. The last time they fished with Jim, they turned on all the flood gates so it was a pretty trashed up trip. They decided to come back and try it again. Much better! Even with the fluctuating water, they pulled fish with the red midge, gray scud and a pink San Juan worm dropper. Alton and Bob, from Alabama, spend the morning with Darrell. Good morning, mainly on the size 16 red tungsten beadhead midge.
Tuesday, Jerry, from Neosho, took a half day float with Jim. They experienced pretty light takes, but caught fish on the red midge, a size 18 black thorax midge and a gray scud. Chris and her son, Shayne, from here in Branson, were out for half a day with Stan. Chris said they had a wonderful day. Even though both were new to fly fishing, they caught a good number of fish on the red tungsten beadhead midge all morning.
Jim out all day Wednesday with Wayne, from Alabama. He had a ball! Caught fish on a charcoal sculpin, red and black thorax midges, and a size 10 olive wooly bugger. Bill, from Illinois, was "looking to be put onto fish!". He spend the morning with Stan and Stan complied….got him onto fish. Their single best pattern was still the red tungsten beadhead midge all morning.
Thursday, Dave and Mack, from Texas had a half day with Jim. These guys were pretty new to fly fishing, so Jim worked with them on skills, and also let them catch from fish. The size 16 red midge and gray scud where their patterns for the morning. Stan had Les and Doc from Oklahoma out all day. Great day….red midge was about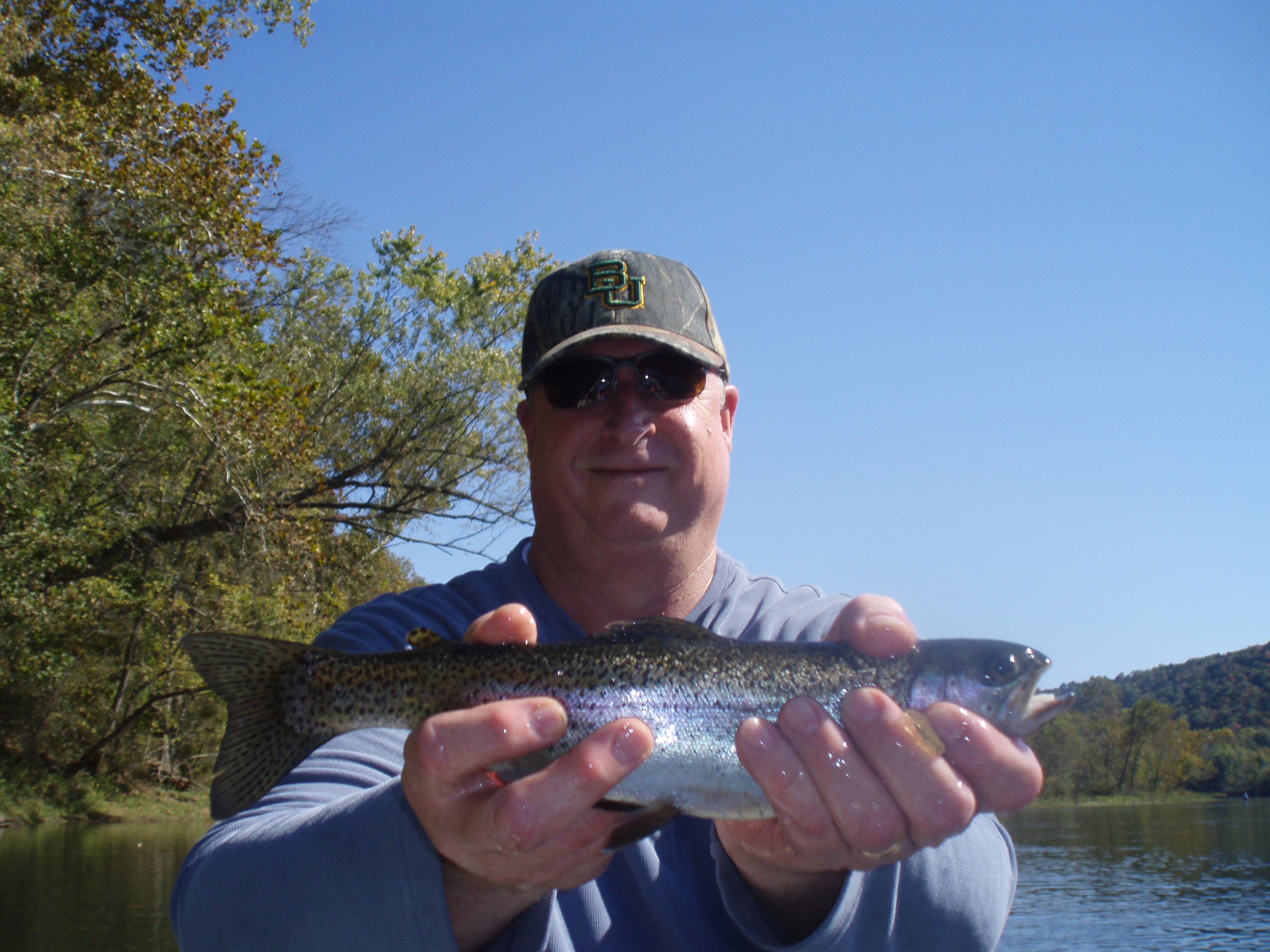 Dan – 110/21/10
the only pattern they needed for a good day's outting. And, another fly fisher in the making, Dan from Texas. He called and said he wanted to learn how to fly fish. Gina took him out for half a day and we think "he is hooked!" She wokred on casting and line handling a little to get him started, they started working on catching! At the end of the trip she introduced him to pulling a streamer using the sinking leader. He really liked that! Their best patterns were the rusty midge and the olive floozie. Carolyn spend the day with John, from Illinois and his friend Bob, from Arkansas. These two are a pair…best best friends for over 50 years. Almost all our fish were caught onthe size 16 red tunghead might. Good day!
Stan and Terry, from Oklahoma, had a good day on the water Friday. Turned on two generators early (was supposed to be 6:00 p.m.), but not to worry. They caught fish on the size 16 red midge, the ruby midge, size 18, and the 56er stripping it the area above Fall Creek Boat Dock. Carolyn took a nice nine year old young man out for a morning wade trip to get him started fly fishing. Mom, Jennifer, and Dad, Jeff, went along to observe. Don't put a fly rod in Jennifer's hands….she'll start catching fish. Even neater was to see Hayden, hook his first fish within five minutes after he finally got a fly on the end of his line. I started him out flyless to work on the roll cast, mending and how to bring in a fish. Told him he had to "earn his fly". He hooked and landed, hooked and lost, several fish . Best patterns were the copper dun and ruby midges, size 18; and the floozie. Jeff was experiencing a sinking leader stripping a streamer for the first time. Neat family. They plan to do lots more fly fishing from their boat on Lake Winnebago, where they live.
Jim took Steve and Tony, from St. Charles out all day Saturday. This was a birthday present for Tony (Steve's brother-in-law). They came back with alot more experience than when they started. Jim took them through the paces of casting, line work, hooking and playing fish. They had a good day on the black and rusty midges, and a size 18 gray scud. Bruce and Scott, from Lee's Summit spend the morning with Darrell. A good day for them on the copper dun and black zebra midges. And Stan had a great day with Dave from England. Knew Stan was in for a day when he asked Dave if he drank coffee. Dave's response was "what do you do with coffee?" Probably would have hooked even more fish had they not been laughing all day. Dave was so happy he got the opportunity to go fishing. Seems he had communicated with another area guide and set up a trip for October 20th. He was to call the guide when he got to Branson the day before the trip. He did call the guide and left messages twice. Unfortunately, the guide never returned his call. He said he was "like a child anticipating Christmas morning with the thought of going fly fishing". Quite disappointed when it did not happen. But, fortunately, someone recommended us and Dave contacted us for a trip. Dave said this will be on his list of must do things each time he comes to Branson….and probably a couple trips each time. He and his wife do get to the area frequently.