Wow! Can not believe it is already Thursday. Generation schedule changed a bit the past two days. Yesterday and today, they projected a low flow equivalent to one generator in the morning and evening hours, and ramping it up to the equivalent of four by 2:00 to 3:00 p.m. The low one was about a full one yesterday and and little higher than that today. Just heard the horn a few minutes ago and they are flowing four generators at a level of 707.8 and rising. They are even running two generators at Beaver right now. This past Saturday, the water was off until about 1:00 p.m. except for a real low flow at 6:00 a.m. which lasted an hour. Sunday was pretty much wadeable all day. They did run the little spike in the early morning, and turned on one generator for an hour and a half around 3:00 p.m. but that was all. Monday and Tuesday was the early morning spike then on with all four at noon.
Weather has been HOT. Nice to see the rain today. Looks like it will cool us off for a few days with chances of isolated thunder showers both Tuesday and Wednesday. Temperatures in the low to mid 90s with chances again of showers Friday and Saturday. Quite aways off, so no telling what the weather will be by next weekend.
Dana had Mike and his son, Ian, from Kansas out for half a day Sunday. They had a good day on a tan b-bug, and light gray or dark gray scuds. Hooked a lot and missed a lot.
Monday, Stan had Jerry and his brother Charlie out for half a day. They are both seasoned fishers although Charlie is pretty new to trout fishing. He does a lot of off shore fishing in Florida. His brother Jerry is from Lee's Summit and just fishes a lot. They had a good day stripping the olive floozieplume. Also fished the primrose & pearl and purple midges dropped under a hopper. Jim had Matthew and Lukas from Texas out for an instructional trip. They went through everything from roll casting to knots and bugs. They did get to practice landing fish which they caught on the black midge and blood worm.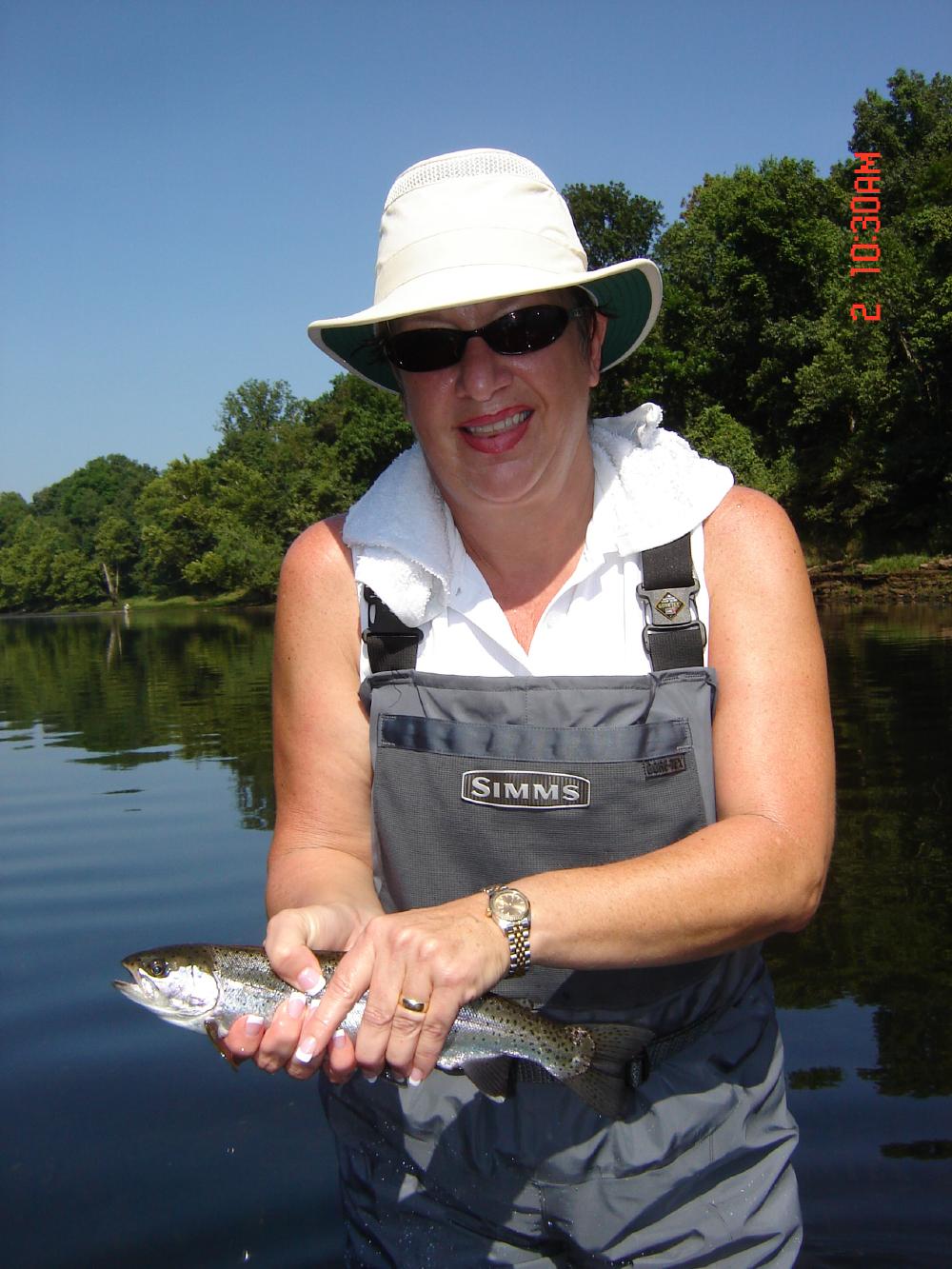 Julia – 8/2/10
We almost had everyone on the water Monday. Darrell was also out with Pat, from Oklahoma and his son, Chance. Pat and his wife had been out with Darrell back in 2007, and he wanted to introduce his son to fly fishing. Best fly for them was the primrose and pearl midge. Carolyn was introducing another woman, Julia from Oklahoma to the wonderful world of fly fishing. She loved it! After spending some time on roll casting, pick up and lay down casting, mending, and line work, we went live with a fly. Primrose & pearl midge was working, but the best was the floozieplume. We have another "stripper" on Lake Taneycomo. Picture is not of her first trout on a fly rod….sorry. We just had a little trouble hanging on to those slick fish! She came into the shop the next day and learned the knots. This, of course, was after she had already been fishing in the morning. One last thing about Monday, it was HOT!
Tuesday Dana took Brian and his son, Dustin out all day. This was another hot day, but the humidity seemed to be a little bit better. Bet is was still a little warm, however, for these two from Minnesota. They had a good day on the tan b-bug and red San Juan worm. Darrell took Mike and Silvia, also from Minnesota, out for half a day. You can imagine what the shop was like before everyone left with Brian and Dustin, Mike and Silvia, and Darrell all being from Minnesota. They were all on another planet for a while. Mike and Silvia's best fly was the purple midge. Both are pretty new, so Darrell gave them some instruction during the trip.
Wednesday, Stan and Doc Stewart, from Oklahoma got onto the water just a little earlier than normal (another hot day). Doc was in an auto accident this past April while in New Zealand and severely injuired his right hand. His goal for the morning was to see if he could still fly fish. I am glad to say, after a few trials and errors, he still has the magic touch! He was able to bring in fish stripping an olive wooly bugger as well as drifting the big ruby with a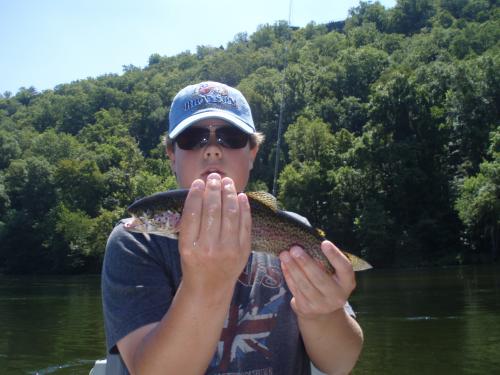 caption goes here
primrose & pearl midge dropper. Kayla and her brother Kalvan (Butch), from Nebraska were brave enough to spend half a day on the water with Jim. These two had never fly fished before and Jim said they worked very hard at learning everything. They landed fish on the gray scud, and pink, red and purple midges. Gina had Joyce and her grandson, Robbie, on the water Wednesday. This was Robbie's first experience in a drift boat and first experience catching trout on a fly rod. He made his Grandma proud! Tough day as they got on the water a little late in the morning and the generators were ramping up during their trip. Crazy currents made getting a drift or even stripping patterns challenging. Robbie still managed to land some fish on the floozieplume and the red midge.