Well, they pretty much followed the generation projection for the weekend. Water off Friday until 2:00 p.m; Saturday until noon, and then it came on low; and Sunday until 3:00 p.m. It came on each afternoon for no longer than 7 hours, then back off the the rest of the night. Weather even cooperated. Looked like rain for a while today, but we managed to get through it. Friday morning we had a gulley washer for about an hour, but once it stopped, it turned out to be a nice day.
Jim on the water Friday, in the gulley washer, with Marc and his son John. These fishers from Ohio tried to get on the water with Jim Monday, but we had some bad weather that day too. Persistence paid off as they had very good day Friday on the rusty midge, blood worm dropper and the bug-eyed bugger. Water was off for all of their trip and they picked fish all the way down to Fall Creek. Once Kristi picked up her husband, Rick at the airport, they headed to the fly shop and took a half day float with Stan. These two fish a lot. They had a wonderful day on the rusty and purple midges. Even saw them on the water this morning (Sunday) and they said they had a great morning on the Primrose & Pearl Midge. Rick has his own drift boat, but discovered it is hard to run a drift boat and fish at the same time. He did take Kristi out this morning, and they both caught fish.
Stan took Kim and Steve out for a full day on Saturday. Think Kim caught her first trout on a fly rod with us about seven years ago. She has come a long way since then and really likes it. They both had a very good day on the Primrose & Peal midge while the water was off. One they started generating, Stan changed to the Big Ruby. That was all they needed to continue hooking fish. Dana had Ron and his son, Nick out all day. These fisher had a great day on an olive wooly bugger, red midge and a little brown midge. Ron and his other son, Jeremy, had fished with us several years ago. This time Nick got to spend the day on the water with his father.
Jim was out today with Dave and his father Jeff. Good day on the rusty midge and blood worm dropper. Dawn, aka "the Stripper" from Louisiana, joined me for a fun day on the water. True to form, we both stripped various patterns for the short period of time we were out. Caught some on the holographic and blondie cracklebacks, a few hits on an olive bugger, but once we put on the rock worm caddis soft hackle, it was total chaos until we quit. Several doubles, lots of "pick and rolls", and lots of fish to the boat. What fun! But alas, all good things must come to an end, so we started rowing out about 2:30 p.m. Dawn's husband Albert, who was upstream, was yelling at us to see if we had a camera. One of our customers, Kevin, had a big, beautiful rainbow hooked and wanted a picture. We rowed very quietly up to where he was still playing the fish, used our big net to net him and took a picture of this beautiful catch. Think Kevin was still floating when he came into the shop later to get copies of his picture and leave his e-mail address so we could send him copies of the pics. Good job Kevin! What a great way to end the day. Oh yes, this beauty was carefully revived and will put a smile on someone's face again. Who knows, it could even be Kevin.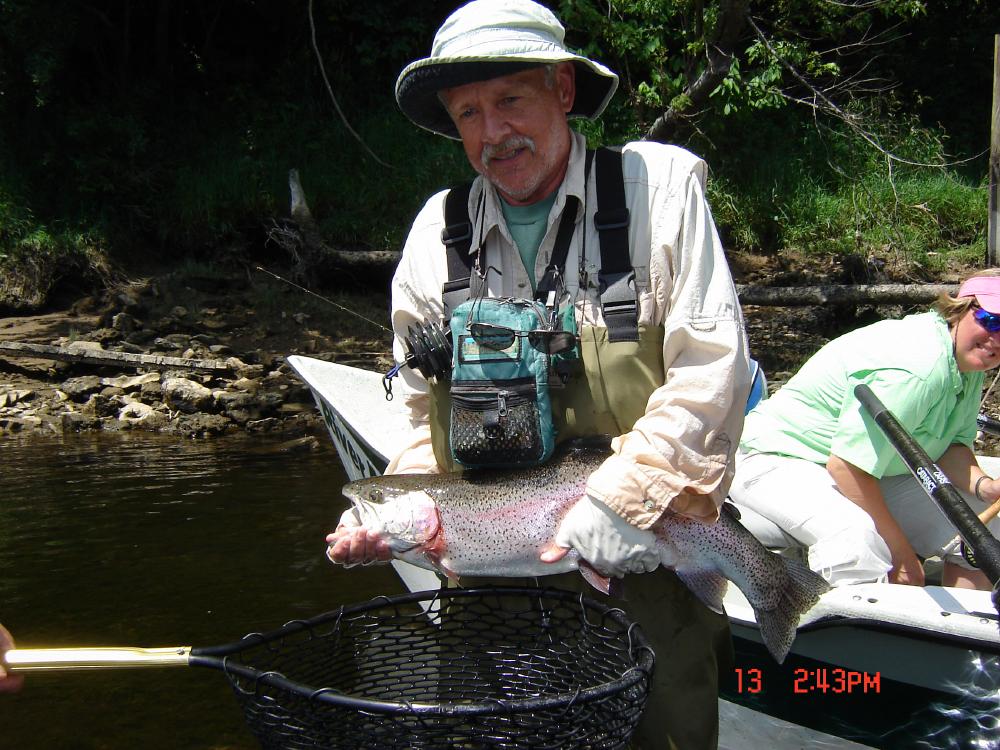 Kevin – 6/13/10 – 26-1/2 inch Rainbow