Water came on at noon today instead of the projected 2 p.m. Reports coming into the shop the last two days from waders are mixed. One guy has a great outing and the next guy says fishing is painfully slow. Stan went out this afternoon with Perry and his daughter Brittany. He said they just got set up and the fish were active all around them. They started out great guns, getting takes and fish . . . and then the horn sounded and conditions did a 180. Perry and Brittany got a crash course in beginning fly fishing though and were very happy with the results.
Our guide Darrell shared these next pictures of John from this past weekend's fishing trip. The picture of the fish in the net is dazzling! Good art work Darrell.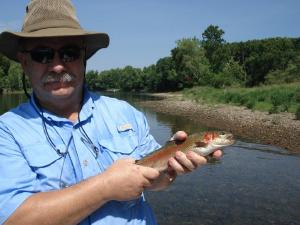 John displaying a "River Rainbow"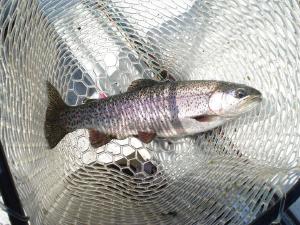 Picture by Darrell Lundberg