Still generating water 24/7, but the levels have usually been where a person could do some wade fishing, especially below outlet 3 in the hatchery area. This morning was an exception as they raised it as high as 706.3 this morning around 8:00 a.m. Hopefully, it will drop back into the 704-705 range for most of the day. Beautiful weather! Sunny, no rain, and temperatures in the 70s. Picked up a light breeze yesterday around 10:30 a.m. but nothing like it was on Friday. Almost blew me off my feet a couple times. By 11:00 a.m. today, they shut the generators down to one and it has dropped, so far, to a level of 704.8.
As we said in one of our earlier Newsletters, we expected the fishing and quality of fish to be great this year. So far, it is certainly the case. We had one of our customers, who fishing all over the U.S., come in the other day and said that the fish in Taneycomo are the most healthy, fiesty, fish he has fished for during his travels over the past several months. On all our trips, we have noted now hard even the smallest trout are fighting and how fat all of them are. They are eating well and full of energy which really make for great fishing!.
Bill – 04-30-10
Friday, Carolyn finished up the two-day school with Bill and Carolyn from Arkansas, by taking them on their work-day fly fishing trip. They do the knots and rigging for the various presentation methods we worked on in class the day before. Once Bill started catching fish stripping the holographic green crackleback, class was pretty well over. Too windy to try false casting, but they did get feel for shooting line, so we were okay. Carolyn wanted to master midge and nymph fishing as that is what they do a lot of on the Beaver tailwater. Other than the wind, it was an awesome day with the crackleback, big Ruby, pink mega San Juan, and size 18 Ruby. Keep it up guys, it only gets better.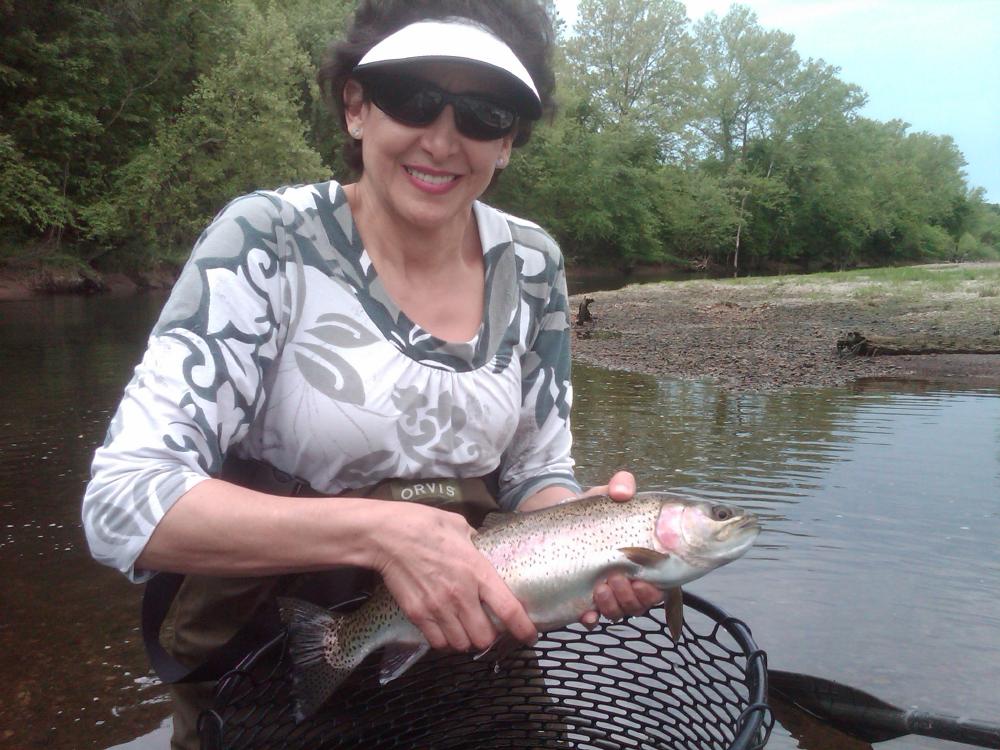 Jan – 5-02-10
Saturday, Gary and Jan from Texas, ventured onto the water with Carolyn. Jan had had a few experiences with a fly rod, but not a whole lot. Gary had done a little more, but welcomed some slight suggestions to work on. Fishing a little slower than Friday, but it was still a very good day. The big Ruby with the mega pink San Juan fished well all the way down to Fall Creek. For stripping, the holographic green crackleback hooked a few, but the star was a size 10 black thorax, red butt, soft hackle under the sinking leader It was a bit overcast Saturday so the darker color worked best. Jan's only complaint was that I made her hold a fish. She was just kidding…I hope! We had one nice "team" fish. Trying a different pattern, I hooked into a fat 19 inch rainbow. Jan skillfully brought it in. So fat, she had to use both hands to get around it. Meanwhile, Gary is down stream, stripping and hooking on the red butt soft hackle.
Monday, our 50th state paid us a visit. Wayne and Colleen, from Hawaii, took a full day float with Jim. Weird day. Fish ere hitting steamers very well, but they were definitely short striking or just bumping them. Lots of hits, not as many hookups! They caught fish on the red midge with a size 18 black thorax midge and the size 12 bug-eyed bugger. Carolyn had Mike and Jan from Oklahoma out again. Glad to say Mike is starting to see a little. He lost his sight very unexpected last year, but certainly not his love for the outdoors and especially fly fishing. We had a fun day. Laughed a lot and said lots of words to those fish which were bump and running from our streamers. Finished up the day, hooking a bunch (technical term) on the big Ruby with the size 18 ruby midge dropper. Had to almost pry Jan off the water. That lady loves to fish! Stan had Bill from Arizona out all day. Bill had such a great day, he decided he needed to try it again today. They fished the bug-eyed bugger and the big Ruby with the little ruby yesterday. This 91 year old youngester also loves to fish and was certainly ready to hit it again today!