Yes, the level of Table Rock Lake continues to fall. It is at 917.1 this morning. The tailwater level of Taneycomo has held fairly steady at 707.8 feet. The past 3-4 days were beautiful! Too bad all the leaves have blown off the trees. Temperatures were in the 70s with lots of sunshine. Today is going to be overcast, but no rain! Temperatures should be in the lower 70s. Forecast through the weekend looks like a slight chance of ran tomorrow (20%) and again a slight chance of rain over the weekend. Otherwise, sunshine and moderate temperatures.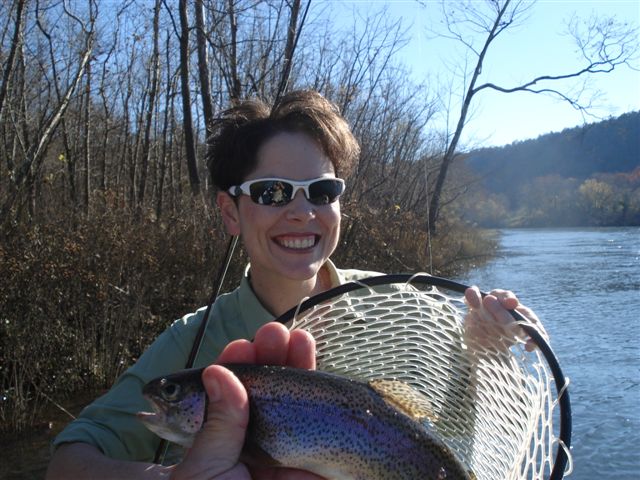 Wendy's first fish on fly rod
Couple of busy days on the water. Saturday, Jim and Dana had a group of guys from Arkansas on the water; Samuel, Jake, David and Frank. Pretty good day for everyone. Red midge, orange or red San Juan worms, and peach colored egg. Eric was out all day with John and Kim from Texas. Kim had fished with us in June this year and decided to try it again. They caught fish on the red tungsten beadhead midge and a cerise San Juan worm. Darrell was also out with a couple ladies from Texas, Lisa and Wendy. They decided now was the time to try something they wanted to do……try fly fishing. Stan was also on the water Saturday with Scott from Kansas. They spent half a day fishing yesterday and are on the water again today.
| | |
| --- | --- |
| | |
| Jake – 11/07/09 | Samuel – 11/07/09 |
Sunday was family day. Bud from Lee's Summit, MO. has been going out with Jim for quite a while learning all the ins and outs of fly fishing. For his birthday, which was November 7, he wanted his entire family to fish with him…..and they did! What a great outting and fun family. The guides Jim, Darrell, Dana and Carolyn, with all the family members in the boats, formed a circle so we could give Bud a birthday cupcake and sing happy birthday to him. After all our singing, only one more fish was caught in this area. Guess they did not like our singing. For those in the group new to fly fishing, there was lots of learning, lots of missing and quite a bit of catching. Derek and his wife, Amanda, were wade fishing at one time with Dana. After Amanda spent a little time in the water, the baby who is due in March, decided to do a little kicking. So, back into the drift boat for Amanda! We decided the baby didn't like the cold water. They were catching fish on the Orange San Juan worm dropped from the Ruby midge. Carolyn had Shannon and her boy friend Chad in her boat. Both are brand new so we worked on the roll cast, line management, and once we got down recognizing the hit, hooked and brought in some fish. Best patterns were the pink or red San Juan worm. Think Bud may have a new fishing buddy with Shannon. Jim had Darrin and Vanessa with him. This couple are also brand new so Jim spent lots of time working with them. They brought in fish on the red midge and an orange San Juan worm. Darrell had the birthday guy, Bud. Beth, his wife, rode along to spend the day with the family and enjoy the beautiful day. Their best patterns were also the red or pink San Juan worms. Hopefully, after this day, Bud will have lots of fishing buddys.
| | |
| --- | --- |
| | |
| Bud's birthday party – 11/08/09 | Derek & Amanda |
| | |
| Shannon's first fish on fly rod | |