What happened to our lovely temperatures? Nice weather most of last week except for Saturday. Brrrr! Saturday was overcast, windy, with temperatures in the 40s in the a.m. that crept into the 50s during the day. Today looks pretty nice. Definitely sunny, very little wind and temps in the low 60s. Pretty much the same forecast this coming week until Thursday when we they are forecasting a chance of shows. Temperatures all week in the upper 50s to low 60s. Not too bad for November! Generation a bit crazy these past few days. Two hour blip Sunday evening; off all day Monday until 5:00 p.m. Equivalent of two generators all day Tuesday and off until 1:00 p.m. Wednesday. Once it came on Wednesday afternoon, it stayed on until Friday at midnight. Saturday they ran the equivalent of one generator for an hour and turned it off the rest of the day. It is still off today with the projection for a generator by 2:00 p.m. today.
Another busy week on the water. Stan took Bob and his friend, Mike, both from Michigan, out all day Monday. Bob tries to fish with us 3-4 times a year, but Mike's visits are maybe once a year. Good day on the water for these guys using the Primrose & pearl, Copper Dun and Ruby midges. Dawn, aka "The Stripper" and Albert, from Louisiana, spent a long half day on the water with Carolyn. Good day, with back to back 18″ rainbows, Dawn caught one then Albert, on a pine squirrel sculpin pattern. Lots of other nice fish on the burgundy and copper dun midges, holographic green crackleback and a size 16 light gray scud. Jim had Wayne and Colleen from Hawaii out again. What a cute couple. They are still pretty new at fly fishing and really love it. They had a good day on black zebra midge, size 18 gray scud and a size 18 olive wooly bugger.
Tuesday, Stan took Hubert and Georgia out for half a day. They had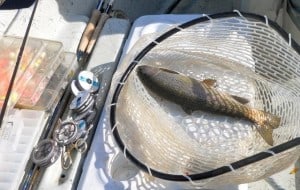 a wonderful day on the water with the primrose & pearl and red midges. This picture was not their largest fish, but the composition of the picture is so neat. The other treat of the day was an eagle perched in a nearby tree where they were fishing.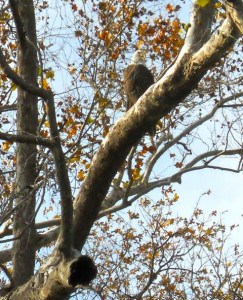 Jerry from Indiana spend half a day on the water with Jim. They worked on skills a little and caught fish on the black zebra, black thorax, red midge and a size 12 gray scud.
Stan out Wednesday with Chad. Chad owns Ozark Angler in Little Rock and Heber Springs, Arkansas. They had a good day on the primrose & pearl and copper dun midges. Dan, from Texas, spent the morning with Jim. He is new to fly fishing, so guess what they did. Worked on casting and line work and caught some fish on the size 12 bug eyed bugger, the black midge and a gray scud.
Ripp from Louisiana spent Thursday with Darrell. They had a good day on a ruby midge and holographic green crackleback. Jim and Larry from Texas, had a pretty good day. They caught fish on the red and black midges, and a gray scud.
Ken from Kansas is recovering from surgery and thought the best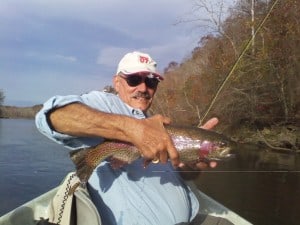 medicine would be a half day on the water catching fish. Think it worked. He spent the morning with Stan and they had a great day on a size 18 red midge. Nice fish Ken! Hope you are feeling better.
Friday was the beginning of a crazy weekend. Close to twenty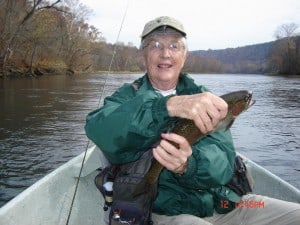 members of the River Run Women's Fly Fishing Club descended upon Branson for their quarterly meeting. And what does a fly fishing club do when they get together? Fish, of course. So fishing was the first, second, and third thing on the agenda. So for those of you who were near the lake on Friday or Saturday and heard lots of laughing, cheering, and yelling, it was just a bunch of crazy fly fishing women having a great time. Pictured above is Barbara with one of her nice fish she caught on the size 18 ruby midge. The weather Friday was not too bad, just a bit windy. Saturday was bitter all morning. It did get a little more comfortable by the afternoon, but not one of our more pleasant days. Several of these hard core women were on the water all day fishing and catching. They certainly enjoyed the evening meal of chilli which helped take the brrrrr out of the day. Best pattern Friday was a size 18 ruby midge dropped from the big ruby. Saturday, a size 8 natural colored pine squirrel sculpin seemed to be the favorite with the fish. Despite all the noise, Stan had Kent from Independence on the water for half a day. Think they headed down stream before all the ladies got to the water so they didn't hear the worst, or best, of it. They worked hard for their fish. In the middle of their trip, they generated for an hour and then shut it down. Best patterns were the red, primrose & pearl and rusty midges. Darrell had Tony and his wife, Amber out for the morning. Comment, bitterly cold. Amber came through, despite the nasty day with a nice fish.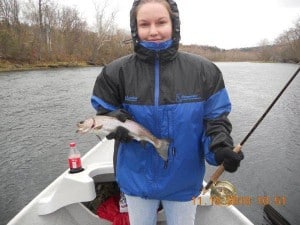 They were using a black zebra and ruby midge.