Other than Monday, they have been pretty nice with the generation schedule for the past five days. Friday saw low one generator on for a couple hours, as well as Saturday and Sunday. Monday they turned it on early and left it on all day. Tuesday irt was off until 2:00 pm. and has not been off since. Table Rock is at 914.6, less than a half a foot below power pool. The rain we received Thursday night took the levek up about 1-1/2 feet. Heavy rain is in the forecast for tonight and showers most of tomorrow. Cross your fingers that we don't get too much rain as we could see the generators running more to keep the lake at the desired level. Right now, fishing is still fair to good. You just have to find the fish and get the right pattern to them. Past three days, the ruby midge has done very well.
Fishing good on Sunday. Stan had Pat, from Kentuky out again. Pat fished with us the first time in 2008. He and his wife fished four generators and five flood gates. They couldn't believe they were catching fish. They came back in 2009 and saw a completely different river. No generators when they started but they started up a couple before they got off the water. Marge could not make it this time….sorry Marge. Hope we see you and Pat next year, or before. Pat had some very good days on the river by himself. He had to buy a drift boat after he had been out with Stan. They float their rivers in Kentucky. Had another good day with Stan Friday on the red midge and really enjoyed the new experience of stripping the holographic green crackleback.
Monday we saw two generators running. Jim had a half day with Gary and Shari from Kansas. Gary had fly fished some before, but it was Shari's first experience. They had a good day on the red midge, gray scud, orange and pink San Juan worms, and a brown bug eye bugger. Darrell, Carolyn and Stan had a group from Arkansas. Jeff and his son, Nathaniel have fished several times in the past with Darrell. They brought their friends, Chris and his sons, Caleb and Nathan. Everyone had a good day. Darrell had two of the boys, Nathan and Nathaniel. Of course, they were in a race to see who could catch the most. Not certain who won that one. They caught fish on the red and burgundy midges. We felt sorry for the old man, so we sent him out with only one person, Jeff. Their best patterns were the red midge and the holographic green crackleback. Carolyn drew Chris and his son, Caleb. Chris is a good fly fisher, and Caleb is coming along. We boated, and missed lots of fish on the olive floozie, big ruby and #18 ruby and burgundy midge droppers. Not going to say much about the one that got away!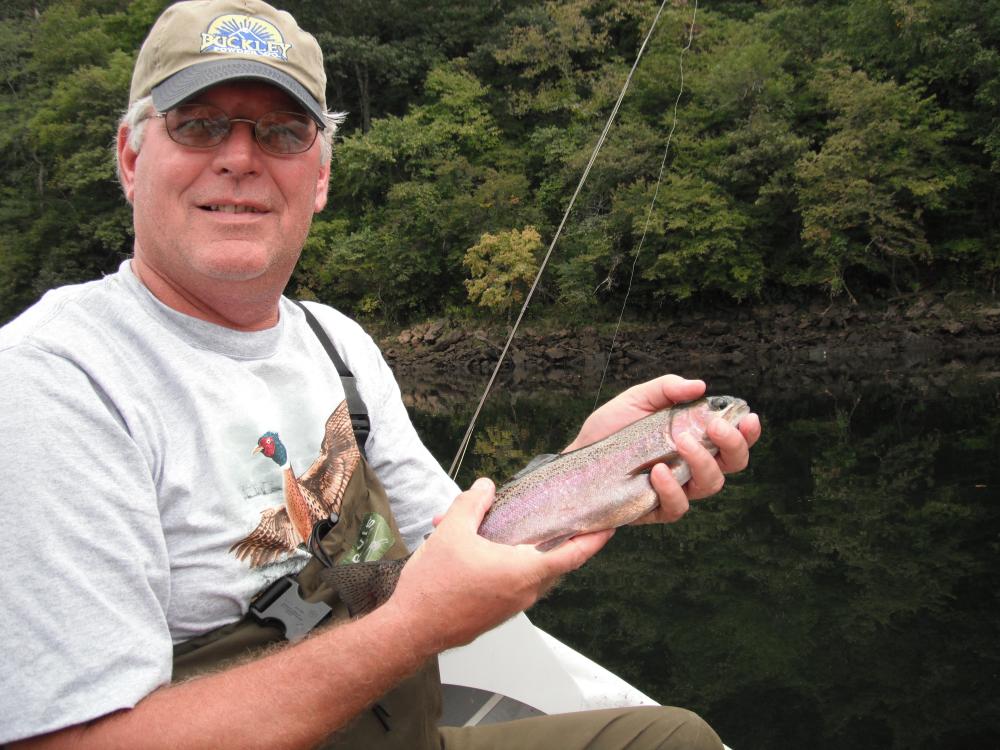 Rex – 9/7/10
Tuesday, Dana took Rex and Patty from Kansas out for half a day. Rex managed to boat all hits and a few on, but they just kept on going. She said next time she comes to fish she is going to leave Rex on the bank so she can catch the fish!