Other than Tuesday, we have had lots of opportunities to wade in the mornings this past week. Most days, and today included, the generators have been off until around 2:00 p.m. each day. Weather has been great. Today is a bit breezy and we are expecting some rain tonight which might go into tomorrow. Temperatures, after this front goes through, should be more seasonal, in the 70s for the day time high. Possibility of some showers on Sunday.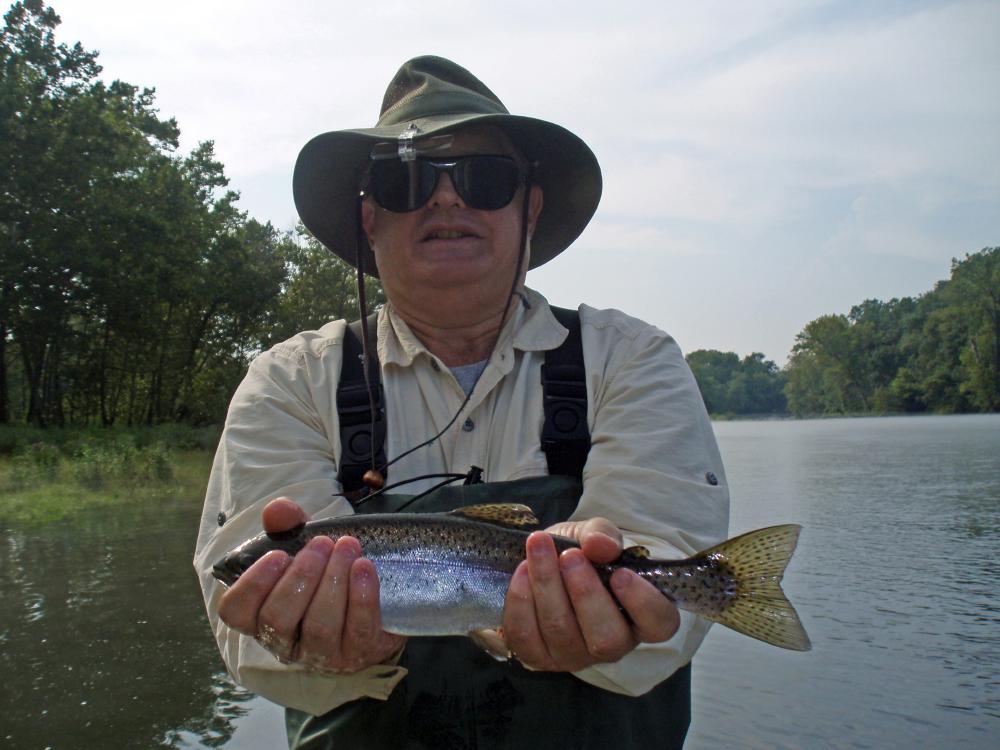 Jim – 9/19/10
Gina on the water Sunday with Jim and Linda from Kansas. They had a good, fun day on the water. Linda wanted to work on her casting, and they definitely made progress there. Their fish catching in the Rocking Chair area was on the primrose & pearl midge and olive bugger. When the water came on, they drifted on down and successfully worked the olive floozie.
Monday was a busy day. Stan out with Larry and Moe from Kansas for half a day. Larry started fishing with us in 2004 and started Moe with us in 2006. Monday started out slow for them. When they did get into some good fishing, it was pretty late in the morning and they needed to get on the road early. Short but good. Best patterns were the primrose & pearl and red midges.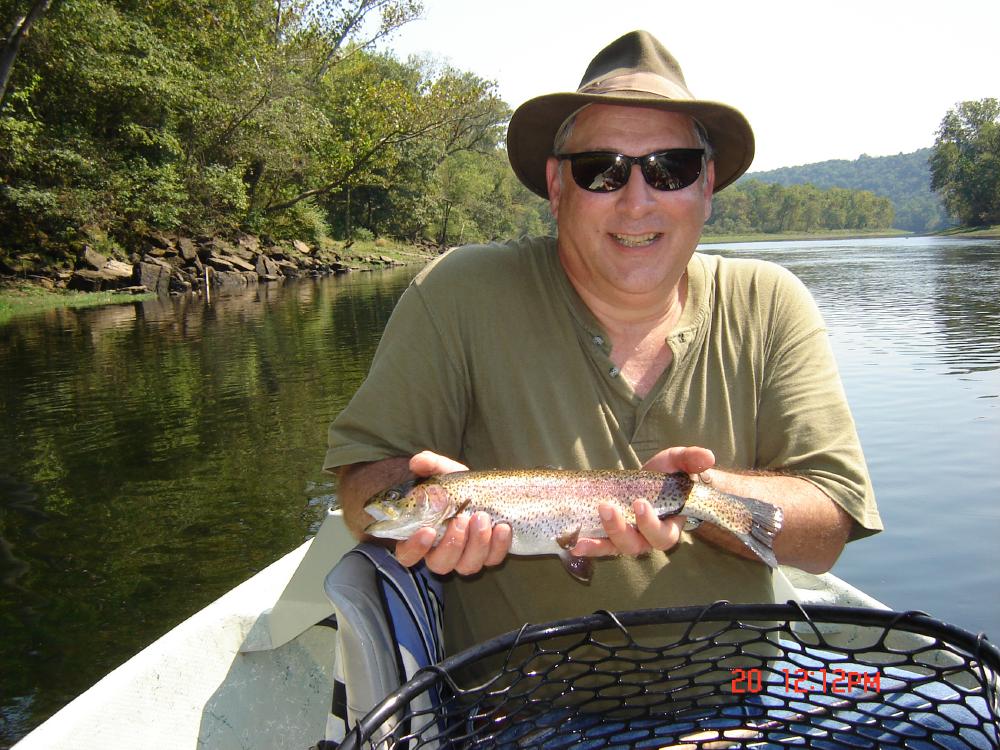 Robert – 9/20/10
Robert, from Illinois, was on the water all day with Carolyn. He completed the Orvis Fly Fishing course at Dogwood Canyon several years ago and tries to fish with us once a year. Early morning got off to a slow start, picked a few fish on a black wooly bugger and a black midge. After several midge color changes, the rusty midge was the ticket until the water came on. One of the day's highlights was spotting a very nice brown which we threw a few patterns at until he decided to leave the area….enough of us! Robert did catch a nice 17 inch rainbow. Finished up the day with the big ruby and a cerise San Juan worm dropper. Turned out being a good day. Jim and Dale from here in Missouri went streamer stripping. They pulled streamers all day with the best being a dark rabbit sculpin in a size 6. Dale pulled a nice 20 inch rainbow out on this pattern.
Tuesday we had generation all day. Stan took Ed and Ken, from Alabama out for a full day float. They had a good day on the holographic green crackleback, primrose & pearl and red midges. Brent and Janie from Texas spent the morning with Jim. They are pretty new to fly fishing, so Jim worked with them on casting, line work and techniques, plus catching. Their best patterns were the red midge and gray scud.
Bruce – 9/22/10
Wednesday we saw the start of another "stripper" on Taneycomo. Carolyn had Bruce and Jan from Colorado. A little slow again in the early morning. Once we put a little ugly midge under the "Bug Ugly", this was the combo. Finished up the day stipping various patterns, the floozie, crackleback, and the best out of the lot was the 56er. Jan had never fished this way before and she liked it! Every hookup brought a happy, excited noise while she was bringing in the fish! It was great! Caught several "rodeos" too (fish on for 8 seconds or more before getting off). Jim had Bill from Arizona out all day. they had a good day on a gray scud, the miracle scud, gray sculpin, and black midge with a blood worm dropper. Stan also out all day. He had Ron and Denny from Iowa out. This was a first time for Denny and he loves it. He had several "rodeo" fish too. They stripped the holographic green crackleback using the intermediate sink tip line, and also caught several on the burgundy midge, size 18. Lots of moving around and trying different patterns to find the spot and pattern the fish are wanting right now. Many of the hits are very soft, so I suspect fishers who are not catching many fish are possibly just missing the hits. Once you find the spot and/or pattern, fishing is pretty good!
Seeing and hearing about a few nice browns. No great numbers yet. Most fishers are still fishing for them at night and understand last night was pretty slow. One of our customers caught a nice 24 inch rainbow Monday on a size 18 copper dun midge in the Rocking Chair area.