Other than Friday, the water had been off every morning, except for the one hour around 5:00-6:00 a.m. when they turn on a low one for an hour. Then, they turn on all four for six to eight hours sometime around noon or 1:00 p.m. Back off around 8:00 p.m. Friday they ran a the equivalent of a low one generator until 6:00 a.m. when they added another generator. By noon, it was running all four and did not shut down until 10:00 p.m.
Jim had a very nice young man, Peyton from Georgia, on the water Tuesday. Peyton thought he wanted to learn how to fly fish, so his Mother booked a trip for him. Jim said he was a good student and landed fish on the black midge blood worm dropper and an olive bug-eyed bugger. Peyton came back into the shop the next day to rent equipment for his father so he could take him out and show him how to fish. Peyton caught fish but I don't think his father landed any. Maybe next time.
Wednesday and Thursday, Stan had Joey and Shelia from Oklahoma on the water. They fished all day Wednesday and half a day Thursday. This was Shelia's first time with a fly rod and she picked it up very fast. Think she even caught the most fish each day. They were catching on the size 18 purple and olive midges. Nick and John from North Carolina spent the day with Jim Thursday. Nick fly fishes quite a bit and John not as much. They were able to catch fish on the size 14 bug-eye bugger, and did well on the black midge, blood worm and size 12 pink midge when the water came on. Both bugger and midges have been working well in the area by Trophy Run development.
Darrell had Chester and his friend Larry out Thursday and Friday mornings. Chester took the fly fishing course offered by Dogwood Canyon last year. He hopes to take his fly rods on a motorcycle trip to Alaska some day. They good a couple good morning on gray scuds and the cerise San Juan worm.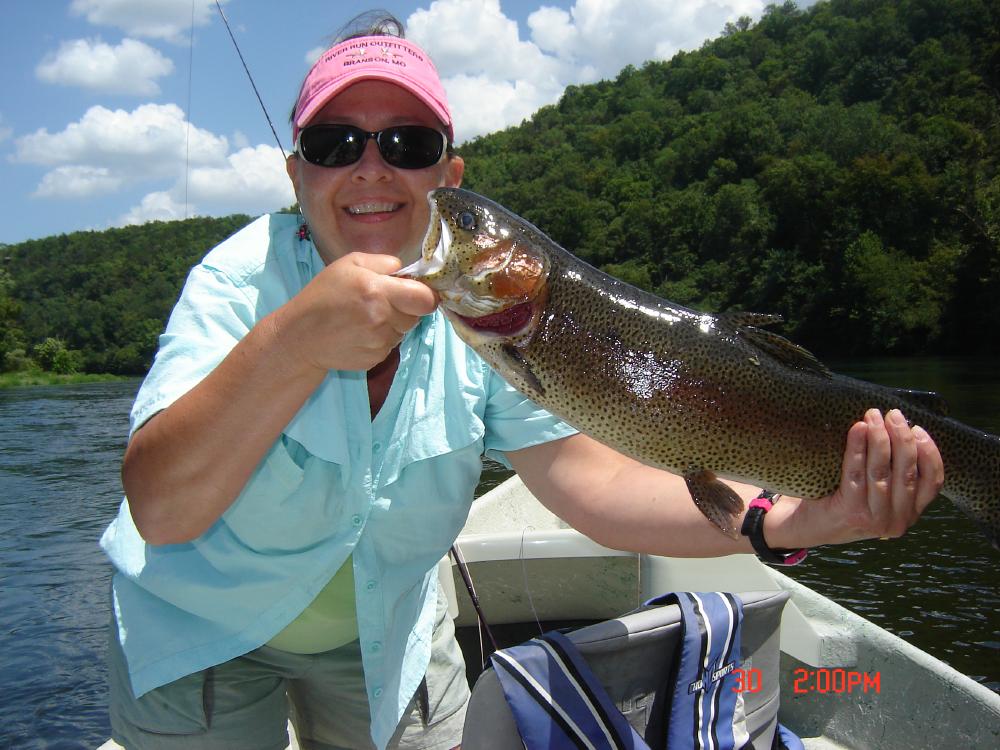 Trish and a 24" Rainbow – 7/30/10
Bet lots of people where wondering what all the yelling was about Friday afternoon. Trish and Mike were out with Carolyn again, and Trish hooked into a beautiful 24 inch rainbow. She was doing the twitch-twitch, slow strip with the olive floozieplume. We caught a few fish on most everything we tried, but no real consistent pattern. Fished the cerise worm, big ruby midge, hot pink San Juan, and the bug-eyed bugger. This was the day they started with low water early in the day and ramped it up during the day. Meanwhile, Barry and Gary from the Lee's Summit area found the water higher than they could wade, so they checked to see if Stan was available for an afternoon trip. Turned out he was so they spent the afternoon drifting and catching some fish on the cerise worm under the big ruby midge.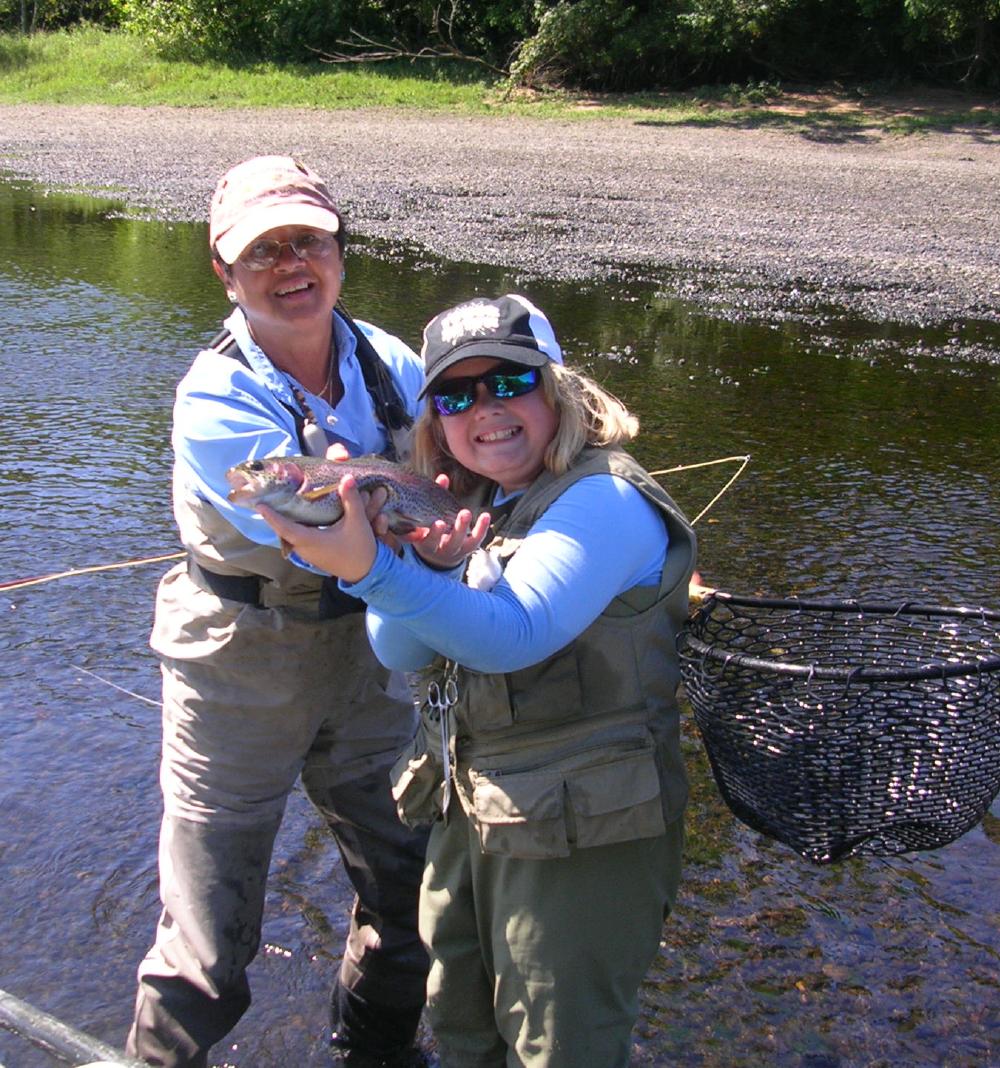 Casey and 15-3/4" – 7/25/10
Last, but not least, here is a picture of Casey on her first fly fishing outting. We tried to stretch this one so it was as big as her Grandfather, Jim's fish, but couldn't quite make it. Neat young lady and think she will be a fly fisher some day.