Got lots of trips to report on from the last week. We know you want the scoops and nuts, so here we go.
Last Monday Thomas and Carolyn from Texas were out with Darrell. Carolyn was in Branson and attended the Orvis fly fishing school at Dogwood Canyon and wanted to try out her new skills on the tail water. They caught fish on the P& P and the holographic green crackleback.
Tuesday Gina took her sister Penny and Uncle Don from Florida out for his first fly fishing trip. He needed a quick lesson in casting before he tackles a stream in North Carolina later this summer. Don casted like a natural and hooked his first fish on a wooly bugger. He was all smiles and Gina was a very proud niece.
Thursday, Jim had a couple of more Texans, Chad and Charles, who wanted to learn to fly fish. They worked on nymphing skills and caught their first trout on rusty midges and the blood worm dropper. Gina spent the afternoon with Clint and his nine year son, Sam from Louisiana. It was Sam's first fly fishing trip. According to dad, Sam is a lucky fisherman, and he proved it by hooking up with the first fish of the day and later setting the hook and landing a 16 1/2 inch rainbow all by himself. Seemed like the fish got bigger as the water got higher, and Clint inched out Sam and caught a 17 incher right at the end of the day.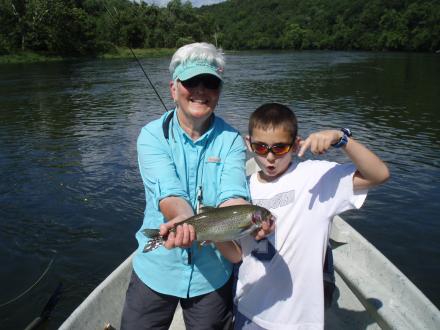 Sam's Big Bow!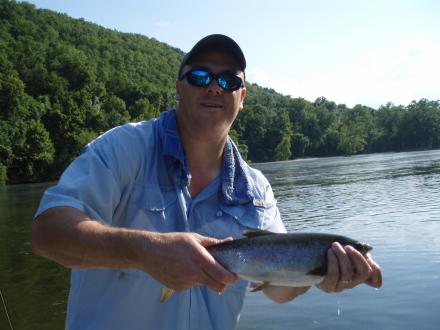 Clint's aka Dad's Bigger Bow !
Friday, Stan took Walter fishing. Walter has recently moved to Oklahoma and has been exploring trout fishing opportunities in the area. Sore shoulder and all, Walt was determined to get water time and catch some fish. Four more folks from Louisiana booked an introduction to fly fishing with Jim and Dana. Quinn and Larry took the float with Dana and caught fish on the red midge. Jim worked with Craig and Judy on casting and hook setting and Craig and Judy hooked their first trout on a fly with rusty and red midges.
Saturday and Sunday Chuck and Judy from Oklahoma City put a floatilla of friends on the water with Stan, Jim, and Darrell. Chuck and Judy were excited to fish their new Sage rods acquired last April here in the fly shop and had a ball catching fish on red, rust and P&P midges. Mike and Pam got some help with casting fishing techniques from Jim. They did some streamer fishing with bug eye buggers and nymphing with midges and boated a good number of fish in the two days. Darrell fished with John one day and added a second fisher Chuck on Sunday. The purple and black midges and the filoplume were the hot flies for them.
The Kerrs from Louisiana were in Branson again this weekend. Saturday, Dawn and Carolyn her mother-in-law were out with Gina. Carolyn fished until noon and boom, boom, boom caught several fish in a row while the trout ignored Dawn. Dawn took over first chair after lunch and found a spot below Lookout Island where she demonstrated once again why she is known as the "Stripper." She caught lots of fish on the filoplume. On the drift out , she fished her first thingamabobber with a big ruby, little ruby dropper, learned the choronomid wiggle, and nailed several 16 and 17 inch wide bellied rainbow. That lady can fish!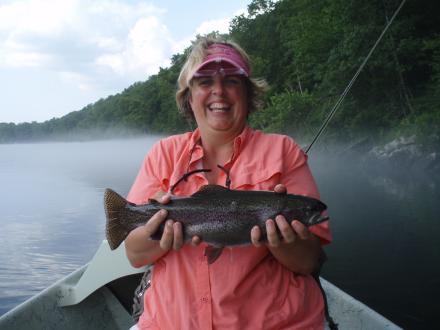 Stripper strikes again!
Sunday Stan was out with Phil, a returning customer from Kansas. Dana fished with another yet another vacationer from Louisiana, Ken. Ken had a great float down the river and caught fish on the olive filoplume, red midge and peach egg.
A couple of ice fishers from Wisconsin, Keith and Bill went fishing with Stan on Monday, the official first day of summer. Don't need to tell you they didn't need to drill any holes in ice to get to the fish. It was hot challenging day for these fishing veterans, but they boated some good fish on the rusty midge and the pink San Juan worm and had plenty of hits and misses. Despite the heat, Bill thought it was pretty cool day of fishing.
That's the wrap for the last week. Today the road to the MDC boat ramp is closed for repaving–so no boats on the water today. Lots of folks were wading today. Some of our regulars reported fishing was slow on midges but got some action on woolies and cracklebacks and eggs. The water was off until 2 p.m. and a couple of generators are going now.
He may be a small trout, but he's a keeper! Gina's grandson Will stopped in for visit yesterday. Caddis was the main attraction, of course.