WOW! What a way to start the New Year! Generation was turned on at 10:00 a.m. New Year's Eve day and has been off except for a couple hours at midnight New Year's eve. Although the projection was for no generation today, they turned on two generators at 7:00 a.m. then ramped down to one. Tailwater level has been around 704 feet. Weather has been the main factor. New Year's day was pretty nice. Think it made it into the uper 30s or lower 40s and the sun was out. Saturday was cold, windy, cloudy and down right miserable, and Sunday was even worse! Early Sunday morning it started snowing and we received 4-5 inches of snow which continued most of Sunday and, at times, was mixed with a little sleet.
New Year's day fished great. Everyone up and down the river was catching fish on almost anything. The sunny day midges, such as the Primrose & Pearl, Ruby and Copper Dun midges were working everywhere. If you wanted to throw streamers, the olive wooly bugger was working in the Hatchery area and the pine squirrel sculpin was great in the Rocking Chair area. Of course, the gray and brown scuds were catching fish.
Saturday, the black and rusty zebras were the better colors. The pine squirrel sculpin was still working well. In the Hatchery area, an olive gray scud was working very well for Albert (our Louisiana family) They had started to head home Saturday because of the cold, lousy weather, but decided to stay and fish for just a little while. Albert landed three Rainbows in the 5 to 6 pound range. Happy fellow! Also doing well in the upper area was the Big Ugly.
Sunday we awoke to about 5 inches of snow on the ground! Although it was supposed to quit at noon, it continued into the afternoon and at times was mixed with a little sleet. A few brave souls ventured into the water that afternoon and managed to catch some fish, despite the great difficulty (at least for some of us) in getting a fly tied on with frozen fingers! Sunday was certainly not as good as the previous two days had been. The fish must have had better sense than the fisher people and stayed where it was warm. Cool sight with snow on the dam instead of water streaming over the gates!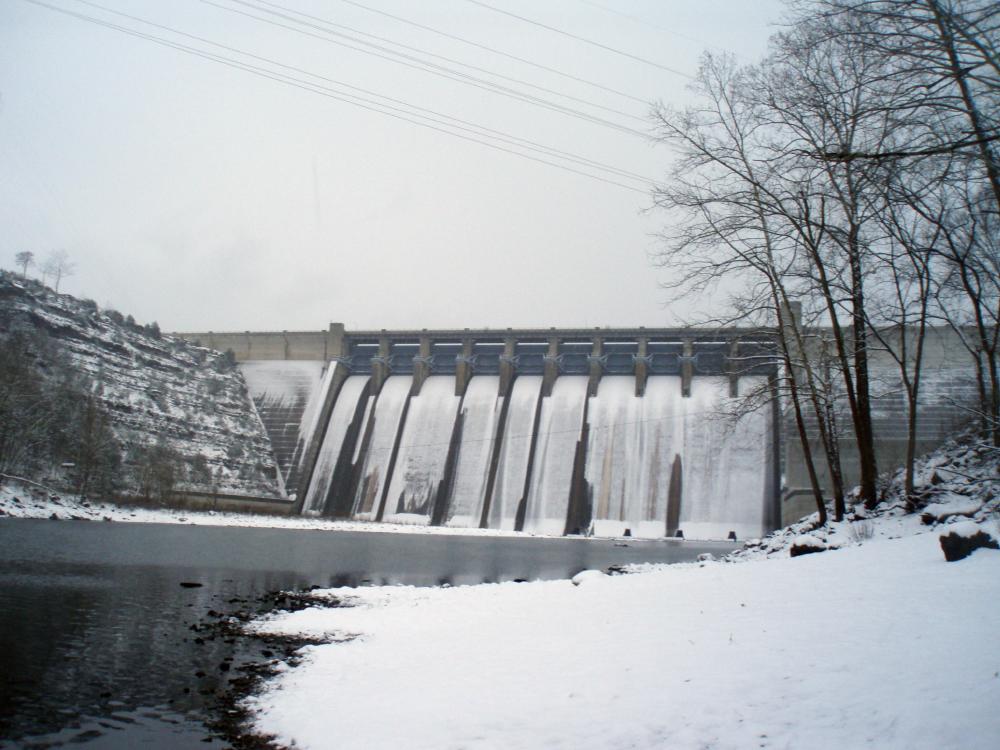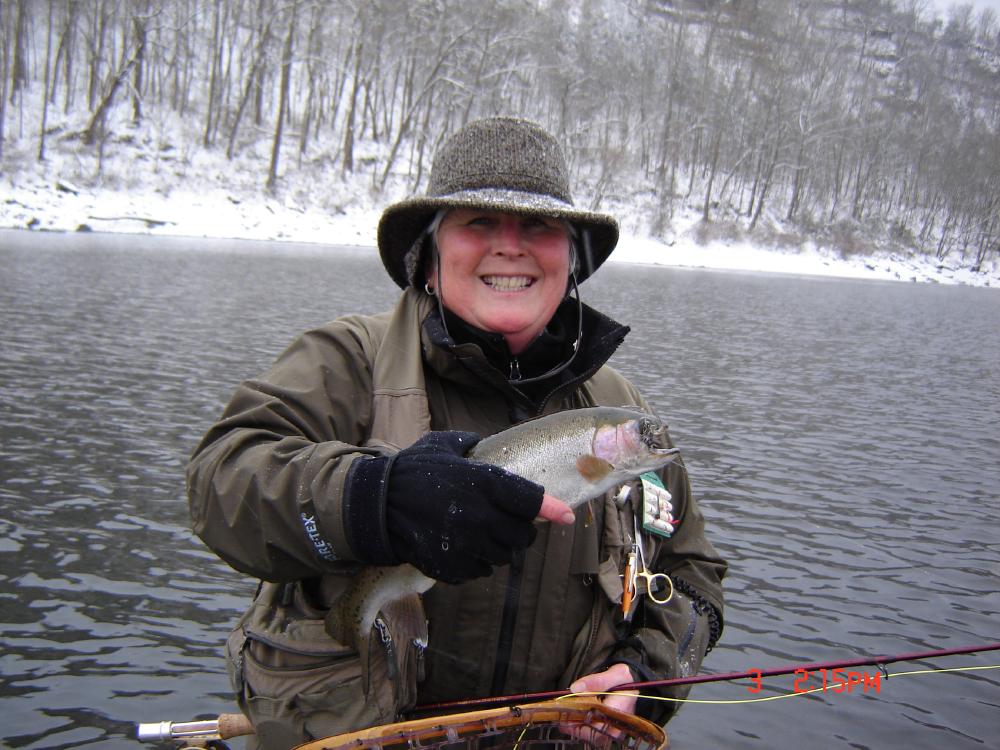 Gina – 1/03/10
And here is one of those crazy people who was out on Sunday. Nice Rainbow caught on a Big Ugly.