Good temperatures and we have been getting some much needed rain.  Didn't think I would hear myself say that.  Table Rock has come up to 908.5′ as of this a.m.  This is almost a foot and a half in just a few days.  And, we have more in the forecast.  Currently, rain is predicted for tomorrow morning and again for Wednesday and Thursday.  Temperatures are remaining in the 60s and 70s.
Generation a little different this past week.  We actually had generation almost all day Thursday.  Friday it was off in the morning then on early afternoon and ran almost the balance of the day.  Same thing Saturday…turned it on at 2:00 p.m.  So far today, it is still off.
Stan and Carolyn took a family from Parkville out for half a day last Monday.  The only one who was a fly fisher was Bill, the father of the clan.  Carolyn had the ladies, Abby and Alex, and Stan took Bill and  Teddy.  Beautiful day with no generation but a little….sometimes more….wind blowing.  Much to Abby's surprise, everyone, including her, caught fish.
We all had a great day on the ruby 2 or black copperhead midges.
Thursday, we all hit the water expecting it to drop around 19:00 a.m. or so.  Not.  Water did not turn off, and, in fact, increased around 1:00 p.m.  Gina had Stacy and his son, Devin out for half a day.  Great day for these two on
the ruby 2 and red tunghead midges.  Devin brought both the first and last fish to the boat.   Dick, from Kansas, spent the day on the water with James.  A little slow
start in the early part of the morning, but things picked up around lunch time and they had a great day mainly stripping the tiger tail.  They also caught fish on the P&P under the big ruby.   Carolyn took Jim and Nancy from Illinois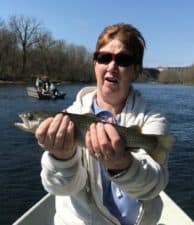 out for half a day.  Very good day for these guys too.  Started out with the black copperhead midge on one and the ruby 2 on the other….both under the big ruby.  After Jim
caught his second fish on the black copperhead, it took two minutes to change out Nancy.  I think we all agreed this was one of our better days of catching for more nice fish.