Weather looks pretty darn good for the next seven to ten days.  Temperatures mostly in the 40s with a few 50s here and there.  No moisture!  Looks like we might start seeing the sun.
Running water all day today.  We will just have to see what the week brings.  Probably go back to routine we have been seeing…..two to three units in the morning, then off most of the day until they turn on a couple units in the late afternoon or early evening for a few hours.  Off most of this past weekend.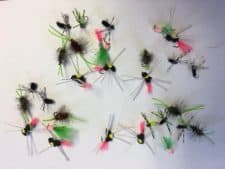 This Saturday's fly tying session was spent on bluegill flies.  Lou "Let's Go" Runnells and Gina "Trout Mum" Leitle led the session Saturday and everyone had a ball tying bluegill flies.  They were very busy as you can tell by the picture of all the flies they got tied.  What fun.
Lou, Gina, Sharon and I went fishing Saturday after the fly tying class.  It wasn't fast and furious.  We caught a few on the ruby 2 midge, an egg pattern and the holographic green crackleback.  As it got later in the afternoon, the holographic green crackleback trailing a tiger tail took off.  Hooked and missed several fish in a short time on this rig right around 4:30.
Yesterday, Gary and his friend fished the rebar area for a while.  They did well on a wine colored San Juan worm.