Hope everyone had a wonderful Thanksgiving Day!
Weather is going to be beautiful today.  Sunny skies and temperatures in the mid to upper 50s.  Low 60s tomorrow and probably Sunday with sunny skies.  Lookes like chances (50% right now) for Monday then clearing back up for the rest of the week with temperatures in the mid to upper 50s.
Non-stop generation all week.  Yes, including Thanksgiving Day and again today.  Don't know yet what they are planning this weekend.  Schedule will not be up until later this afternoon.  Good news is the generation level is only 35 mh which is wadeable in some areas.
Gina out Monday and Tuesday with Dale and Jay from Oklahoma.  This was Dale's birthday and he celebrated his birthday on the water fishing!  The fish knew it was a couple of special days they certainly cooperated.
Great day and a half fishing for Dale and Jay on the ruby 2, burgundy and black midges dropped either under a size 16 ruby 2 or an egg pattern.  Happy Birthday Dale!!  Ron and Kathy from Louisiana spend all day Tuesday on the water with Carolyn.  Great day for these
two on the blue poison and ruby 2 midges.  As usual, Kathy out fished Ron.  But in Ron's defense, he was in the back of the boat.
Wednesday Jim had a great day with Gina on, of course, Wednesday.  Still generating water and the bite was on.  Ruby 2 midge under a chartreuse egg was the ticket that day.
Carolyn had Bill and his father, Jerry, out for half a day.  Jerry was just going along for the ride as he is not a fly fisher.  Bill is getting started and we worked a little on casting, but mainly catching.  Great day for Bill on the ruby 2 or blue poison midges.
Worked with Jerry a little on casting and after seeing Bill catching so many fish, he decided he wanted to give it a try.  Think we have another fly fisher in the making.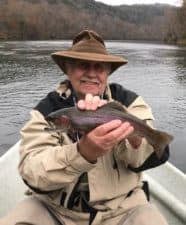 First fish he hooked was a nice 17 inch rainbow.  Told him this doesn't happen every day.     Everyone out over the three day period caught at least one 17 inch trout.  Maybe the lake is turning.  The dissolved oxygen readings are looking good.