Wow!!  Did we have some rain over the weekend.  I don't think any place in the state of Missouri was spared from some type of weather over the past several days!  The rains have stopped and we are on a slow warming trend for the next several days.  Hope for sunshine and NO RAIN!
Managed to get a few pictures to give you an idea of what we are doing.  Table Rock hit her peak yesterday around 6:00 p.m. at 933 feet.  Beaver reached it's peak day before yesterday at around 1132 feet.  Flood pool for Table Rock is 931 and Beaver 1120.
Yes, the flood dates are still open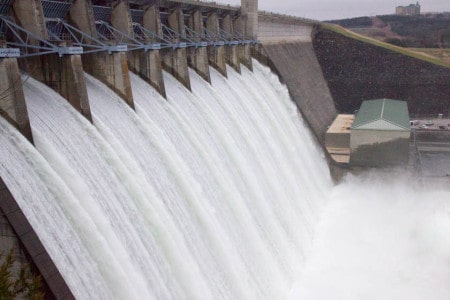 .  We will probably see all ten for several more days.  The last time we had this much water, they cut them back to five gates after about a week.  We'll just have to wait and see what their plan is this time.  Lots of flooding downstream so I know they would like to cut back as soon as they can, but we need to get Table Rock to a reasonable level.
A few more pictures to give you an idea of where the water levels are.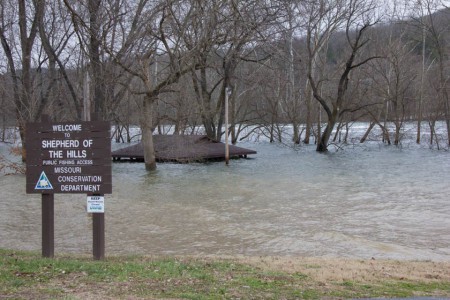 This is the roof of the pavilion located downstream of the parking lot at outlet 2.  The roof of the restroom is sticking out about the same.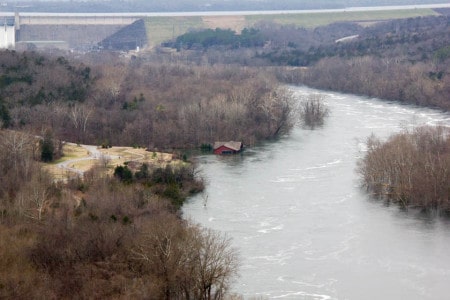 For those of you who have fished below the boat ramp, you might recognize the Trophy Run building that sits on the high bank across from that area.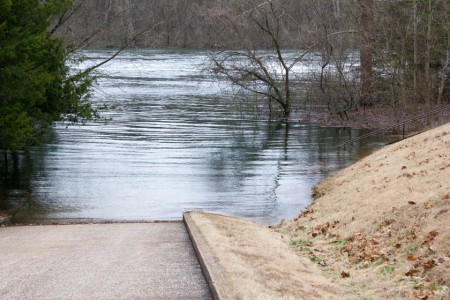 Last, but not least, here is how our boat ramp looks right now.  The water is half way up the stairs going down to the ramp.  Nice quiet water.  Humm!  Might be a good place to wet a line,