It has definitely been warm out there on the water the past few days.  Upper 80s to low 90s with full sun!  Predictions are for more low 90s through the weekend with mostly sun each day.  By Monday, we see chances of rain the a few days and temperatures in the mid to upper 80s.  By Thursday, those temperatures move to the upper 70s through the weekend.
Not much chance in generation….it is still going.  However, we are seeing lower levels of generation although they are running four units to accomplish this.  At 9:00 a.m. we were at 917.9 feet elevation.  Nice to see that number back.
Jack from Indiana, started fishing half days with Stan last Thursday.  Have to give him a medal for endurance as he fished with Stan last Thursday, this past Monday, Thursday and again yesterday.  Four good, hot days on the water.  Stan started him out on the worm brown San Juan worm early in each morning.  As the morning progressed, they would change out to the big ruby with the ruby 2 dropper and usually have to go a little deeper as the water levels were increasing later in the morning.  He also caught some on the copper "L'il Easy: and, of course, stripping the holographic green crackleback on the 2.6 ips sinking leader.   Jack hooked a really nice one his last day out on this, but it broke him off.
Jim out with Mike and Ron Wednesday.  Tough day for these guys.  No best pattern this day.
Cathy and Phillip from Texas when out with Carolyn on Monday.  They didn't get enough, so they tried it again Wednesday. I think the real reason they wanted to try again on Wednesday was that Cathy "picked and rolled" a hog on Monday.  We all saw it and gasped!   Two good days on the water for them.  Monday certainly started out slow, but by around 10:00 a.m. the fish started hitting we were happy campers the rest of the trip.  We even turned Cathy into a stripper.  Most of the fish both days were caught on the big ruby with the ruby 2 dropper.  Hit a nice seam the first day and turned Cathy loose with a sinking leader and a holographic green crackleback.  Same seam on the second day, Phillip pulled four fish out of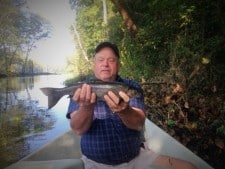 there before you could bat an eye!  Wednesday, each of them landed a fat, 18″ rainbow.  Cathy got the male and Phillip caught the female.