Nice overcast sky today with temperatures right now in the 60s.  Might hit the low 70s later this afternoon.  Low 70s to upper 60s through the weekend into next week with a hint of showers late next week.  I just looked out the window and, yes I am seeing hints of color in the trees.
The generation continues to be a low to full one unit in the morning (they might be using two generators to accomplish this) with a kick up to a full two units or more by 2-3:00 p.m.
Sunday, Stan and Jim took a group of guys out for the day.  Two of them were from Canada and the other two were from Texas.  George and Jeff were with Jim and found some fish stripping the tiger tail or JQ streamers.  Stan and his guys caught a few on the ruby midge.
Fun trip on the water Monday for Carolyn.  She had Roger and Doug from Indiana.  Doug had some previous experience with a fly rod, but this was Roger's first time and they both wanted to learn about fly fishing.  The fishing Gods were smiling on us that day as we were able to experience catching on a dry fly….a hopper, catching on an emerger…a red size 16 soft hackle. catching while nymphing….a ruby 2 or red d-ribbed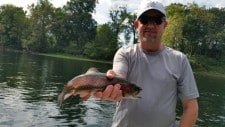 midge dropper under the big ruby, and catching while stripping (they were both a little hesitant about this one!)….stripping the tiger tail on a 2.6 ips sinking leader.  They got the complete package!  Could not have been any better.  Stan had Chuck from Sikeston out for half a day.  They caught a few fish, but just could not find the right spot or pattern.
Jim took Grey and Gary from Oklahoma out Tuesday.  He worked with these guys on streamers and they did well on the bug eye tiger tail.