Heat advisors today.  Temperature supposed to hit 98 and lots of sun!Tomorrow looks like low 90s with scattered thunderstorms developing in the afternoon.  Wow!  Mid 80s Tuesday through Thursday.  No rain in the forecast after tomorrow until next week.
What can I say about the generation schedule.  Non-stop!  They ran two to three units all weekend and the same is scheduled for tomorrow.   The good news is, it has been staying pretty stable.  That does a lot for the fishing.  When it goes up and down, the fishing seems to be a lot more difficult.
Gina and Stan out last Thursday.  Gina
had Jerry and Randall.  Their best patterns were the ruby 2, either under a peach egg or the big ruby.
Stan took Gary and Terry.  No really best pattern.  Fished the tiger tail, a soft hackle and the ruby 2.
Friday, Scott from Nebraska spent the morning on the water with Carolyn.  What a pleasant day!   Enough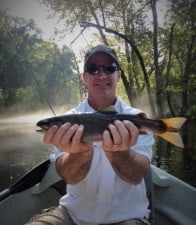 fog stayed on the river to keep it cool.  And every once in a while, a nice breeze would come through.  Fish were hitting just enough to keep us interested.  Scott started off the morning with a nice 17″ beautiful rainbow.  I think it was on a ruby 2 dropper under the big ruby.  Later in the morning we caught on a light olive soft hackle and finished up the day stripping the tiger tail under a 3.6 ips sinking leader.
Not sure who had the most fun Saturday.  Natalie from Independence, took a half day float with Carolyn.  She has been working at fly fishing for a couple years and still struggling with the how's and why's.  We got rid of many of those Saturday as she caught fish on midges rigged for high, fast water as well as slow, skinny water.  She even joined the ranks of "stripper".  We fished the ruby 2 under a big ruby, a size 16 red or black d-rubbed midge, and stripped the tiger tail.  Natalie thinks
she likes stripping the best.