Like I said previously, after all the rain, I'm not complaining about the hot weather.  BUT, it is a little toasty out there in the direct sun!  More warm days ahead.  Little chances of pop-up showers with temperatures in the 90s until next week.  Monday and Tuesday look like better chances for showers with temperatures in the upper 80s.  Back into the 90s by Wednesday and rain chances move out.
They had the generators off early this morning for a couple hours, then right back to four units.  Supposed to shut down late tonight for a few hours.  We'll see.  Wish they would just leave then running at a steady 3-4 units and not shut down.
Stan on the river Sunday with Jeff and his son Owen.  Good day for these guys on the tiger tail,
P&P and white grub.  Owen, who is 11 years old, is a good fly fisher. How about this nice 18″ bow?
Monday, Jim had Truman from Florida out for half a day.  Truman is a good fisher and caught fish on the ruby and hot hare's ear nymph.  Stan had Doug and Susan from Georgia out.  Both are pretty new to fly fishing, especially Susan.  However, Susan caught a 17-1/2″ rainbow on a holographic green crackleback.  Their other good pattern was the peach egg.  Carolyn had Wanda on the water for her late birthday trip.  Fish were not real cooperative, but we managed to pull in a few fish on the ruby 2 midge and P&P midge,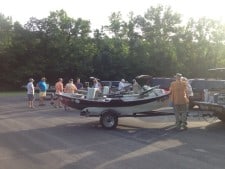 Looked like a flotilla yesterday with a group of guys (related in some way, father/son, brothers, brother-in-law, etc.).  Randy and Ross were with Stan.  Randy started out early with a nice 19-1/2″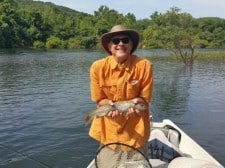 rainbow.  Carolyn had Brian and his son Nolan.   These two were brand new to fly fishing, and both caught fish stripping the tiger tail or holographic green crackleback.  We worked on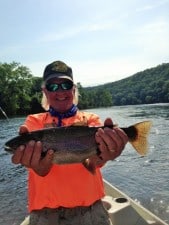 nymphing earlier, but could not find a consistently good pattern they would take.   Brian was pretty happy with his nice, fat 18″ rainbow he caught on the tiger tail.   Nolan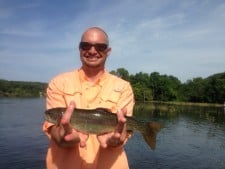 was pretty happy too with this nice 16″ rainbow.  Dana and his guys, Rocket and Ryan were catching fish on the red d-rib midge, P&P and rusty midge.  Jim had two more new to fly fishing guys, Joe and
Paul.  After some basic instruction, they caught a few fish on the ruby midge and hot hare's ear nymph.  Hot, but fun day!