Rain!  This is becoming the bad four letter word in my vocabulary.  We had rain today but are expecting a reprieve for tomorrow with only a 20% chance of stray showers or thunderstorms during the day.  Thursday and Friday are both looking like 100% chances for rain.  At one time I heard we could get from 4-6 inches
Around 2:00 p.m. today Table Rock opened 8 of the flood gates about one foot.  That, along with the two generators, they are releasing approximately 14,400 cfs .  Depending on the amounts of rain, especially that affecting Beaver Lake, they might increase the release flow to 20,000 cfs later this week.
Saturday, Stan took Paul from Kansas out for half a day.  Pretty good day for Paul on the big ruby with the ruby 2 dropper.
Yesterday, Dana had Terry from Defiance, MO on the water for half a day.  Terry has been fishing with us since 2002.   Not a bad day for them on the red San Juan worm or the ruby 2.  Finny from Texas spent the morning with Carolyn.  He was really hoping for a big fish, but best I could drum up with a pretty 16″ rainbow.  Big ruby, ruby 2 and red San Juan worm were our patterns.  Stan had Tom, also from Texas, out all day.  They had a good day on th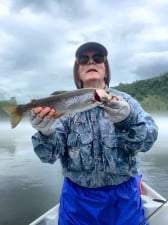 e big ruby, ruby 2 and holographic green crackleback.   Darrell spent Monday and half of Tuesday on the river with
Malcolm and Ed from St. Louis area.  Good fishing for these guys on the big ruby and ruby 2.  I think the highlight of everyone's day was spotting two young eagles.  At one time they were sitting on a downed tree near the river.  Earlier in the day, one of them was actually sitting on the roof of one of Windham's condos and the other in a tree a little ways downstream.